Does Domestic Violence Escalate During the Holidays?
Posted by Susan Halpin on December 12th, 2017 Posted in: Blog, NLM Resources, Public Health
Tags: domestic violence, family violence, holidays and domestic violence, sexual misconduct, sexual violence
---
What are some of your first thoughts when you think about the holidays?  Will you consider me "Negative-Nellie" or one of those "glass-half-empty" people if I admit that "stress" is one of the first thoughts I have when I think about the holidays?
Do you think that family stress could cause an increase in the amount of family violence during the holiday season? My immediate answer is, of course!  Increased stress, increased alcohol consumption, increased time with family, increased expectations, increased obligations, it is not hard to see how violence could be the culmination of all those increased behaviors.
Guess what?  There is no data to support that assumption that family violence increases during the holidays! "This is a myth that has been debunked pretty well, "according to Monica McLaughlin, deputy director of public policy at the National Network to End Domestic Violence. The National Resource Center on Domestic Violence issued a report that was not able to "find any reliable, national study linking the holidays with an increase in domestic violence. "In fact, the perpetuation of the myth that violence escalates during the holidays, is proof of the significant lack of understanding many of us have about how abuse works. Domestic violence is not just isolated acts of physical violence, instead it is a pattern of behavior that seeks to control and intimidate victims through emotional, verbal, economic and sexual abuse. "Coersive control doesn't take a vacation," states Monica McLaughlin. "It's there all the time." That is why Melissa Jeltsen entitled her December 13, 2016 Huffington Post article on this topic "Why It's Dangerous to Claim Domestic Violence Spikes Over the Holidays."
If you would like to read the article, here is the link  http://bit.ly/2kqXcfr .
There has been an abundance of violence in our country over the past few months, I worried about writing a blog post about this topic, especially during the holidays. Over the past few months, I too have felt like I have reached my limit of how much sadness I can tolerate, as I process what seems like weekly tragedies occurring in our country. Yet, it is hard to ignore that there have been 81 famous and prominent men accused of sexual misconduct and/or violence just since the beginning of October according to the December 8, 2017 Time Magazine article, "Here are All the Public Figures Who've Been Accused of Sexual Misconduct After Harvey Weinstein," written by Samantha Cooney.
As a nation we are right in the middle of an important and historic national conversation about sexual misconduct and violence toward women.  Victims are finally being heard and perpetrators are suffering significant consequences. Hopefully, this conversation about violence can be an opportunity for education. Through our shared knowledge and education, I am hopeful we can help each other create solutions that will enable women and families to emerge from these tough experiences, stronger and resilient.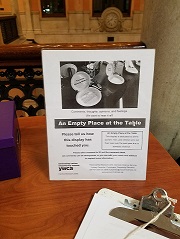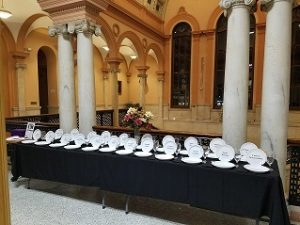 Back in November, which is domestic violence month, our local YWCA created this display to bring awareness to domestic violence.  The display was placed in the Worcester City Hall for the month. To learn more about this event, http://www.ywcacentralmass.org/events/an-empty-place-at-the-table-5
If you are interested in learning more about domestic violence, the National Library of Medicine has created the following resources through their Specialized Information Services Outreach Portal. You can also access the following information through this link http://bit.ly/2i78Q1R.
Patient Resources in Multiple Languages for Domestic Violence 
Domestic violence is a form of abuse that may involve a spouse or partner, a child, elderly relative, or other family member. Domestic violence can include physical, sexual, emotional, and economic abuse. October is Domestic Violence Awareness Month, and the National Library of Medicine offers handouts, audio, and video resources in multiple languages on HealthReach to educate people about domestic violence, such as:
Safe, Smart and Healthy – Keys to Success in Your New Home: Family Issues and Domestic Violence – 2 (16 languages): This one-page handout with accompanying video educates people about resources to assist women and children who are victims of domestic abuse. It contains information about 911, the National Domestic Violence Hotline, Head Start, WIC, and Medicaid.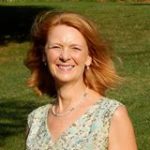 ABOUT Susan Halpin
I am a former health and wellness educator who joined the NNLM NER in August of 2016, Excited to be promoting the excellent resources developed by the NLM and to provide training for anyone who would like to access the free and trusted information the NLM offers.
Email author View all posts by Susan Halpin