Sexual Health Online!
Posted by Margot M on March 13th, 2018 Posted in: Public Health, Trainings
Tags: community engagement, Focused Outreach, sexual health
---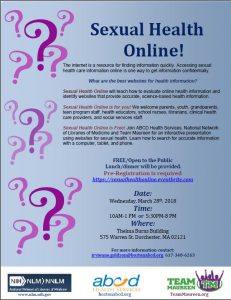 On Wed, March 28, NNLM NER is collaborating with Action for Boston Community Development (ABCD) and Team Maureen for a community-based training on finding quality sexual health information on the internet.
The Maureen E. Russo Nonprofit Organization (Team Maureen) was founded in memory of Maureen E. Russo, who passed away from cervical cancer at the age of 37. Maureen's family and friends founded Team Maureen for a fundraising event in 2007. That effort lead to the creation of a non-profit organization dedicated to raising awareness of the human papillomavirus (HPV) and its connection to cancer. In 2017, NNLM NER funded Team Maureen to conduct HPV educational events for dental professionals and for high school students on Cape Cod.
ABCD is an anti-poverty and community development organization founded in 1961, just prior to the federal Economic Opportunity Act of 1964. The ABCD Health Services Department manages public health promotion and disease prevention programs, including Title X family planning and related preventive health services. ABCD conducts their work at neighborhood sites throughout Boston, and in Cambridge, Somerville and Everett. In conversation with NNLM NER, ABCD identified the high incidence of chlamydia and other STIs as a local concern.
Sexual Health Online!
Through our Focused Outreach Initiative, NNLM NER seeks to provide training and funding support to communities that are medically underserved, facing health care access issues, or economically disadvantaged. We are working with Team Maureen and ABCD to deliver a program to those who work with Boston area youth. Our intended audience includes youth program leaders, school health educators, teen librarians, health care providers, community health workers, parents and grandparents. The goal of the upcoming event is to improve the knowledge and comfort levels of attendees in guiding others toward quality sexual health information. We are offering two sessions: a morning session (10:00am-1:00pm) for those who are able to attend during the workday; and an evening session (5:30-8:00pm) for those who are available in the evenings.
We are still accepting registrations: https://www.eventbrite.com/e/sexual-health-online-tickets-42893634014
Date: Wed, March 28
Time: 10:00am-1:00pm (morning session); 5:30-8:00pm (evening session)
Location: Thelma Burns Building, 575 Warren St., Dorcester, MA 02121  Map
This event is FREE. Lunch/dinner will be provided. Please contact us with any questions.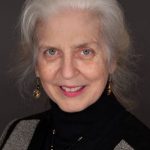 ABOUT Margot M
Email author View all posts by Margot M