New Graphic Medicine Book Club Kit: Emergency Preparedness and Recovery
Posted by Sarah Levin-Lederer on August 13th, 2018 Posted in: Graphic Medicine
Tags: Emergency Preparedness (EPP), graphic medicine
---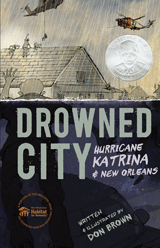 September is National Preparedness Month.  But why mention that in mid-August?
Because I'm happy to announce a brand-new Graphic Medicine Book Club Kit focused on Emergency Preparedness and Recovery just in time to include as part of National Preparedness Month activities.
Using Don Brown's Drowned City: Hurricane Katrina and New Orleans, this kit provides a starting point for groups to discuss emergency preparedness and recovery, what happened in New Orleans before, during and after Hurricane Katrina and how learning about other natural disasters and emergencies can help us think about these events in our own lives and communities.
From the Publisher: On August 29, 2005, Hurricane Katrina's monstrous winds and surging water overwhelmed the protective levees around low-lying New Orleans, Louisiana…The riveting tale of this historic storm and the drowning of an American city is one of selflessness, heroism, and courage—and also of incompetence, racism, and criminality. Don Brown's kinetic art and as-it-happens narrative capture both the tragedy and triumph of one of the worst natural disasters in American history.
Drowned City tells the story of Hurricane Katrina starting with the storm forming in the Atlantic Ocean, making land fall in New Orleans and the missteps of planning and intervention that lead to tragedy.
The Book Club Kit includes:
Six copies of Drowned City
Discussion questions
How to Read a Graphic Novel handout
And information on Disaster Preparedness, Health Effects of Disasters, Helping Children Cope with Disaster, and more from trusted online sources like MedlinePlus, CDC, NIH and others
To order the kit for your book club, or community organization, fill out the book club request form here.  Only one kit is available for this health topic, so put in your request today.
Graphic Medicine Book Club Kits are available for six-week loans within the New England Region.  Other health topics available in the series include Addiction, Mental Health, Aging, Cancer, Veteran's Health and more.
ABOUT Sarah Levin-Lederer
Email author View all posts by Sarah Levin-Lederer