Project Showcase: Educating Healthcare Professionals and the Sighted Community on the Health Disparities
Posted by jessicakilham on September 8th, 2020 Posted in: Funded Project

---
Caregivers and researchers from the Department of Ophthalmology and Visual Sciences at UMass Memorial Health Care and the University of Massachusetts Medical School are dedicated to preserving and improving the vision of our community members. They've had years of training, they're experts in their field, and they know a great deal about the structure and functions of the eyes. But what they may not understand first-hand, is what it's like to be a visually impaired person in society.
"We care for visually impaired people in our clinics and work to develop treatments in our labs each and every day," said Shlomit Schaal, MD, PhD, MHCM, Chair of the department. "But most of us don't know what it's like to walk in the shoes of a patient who is blind or has restricted sight. This event allowed us to do just that; and it was very eye opening."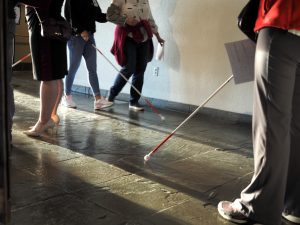 Partnering with VISIONS Consulting L3C, the eye team participated in a "Blind Date" . Each team member was partnered with a sighted guide, blindfolded and given a white cane. They then walked through a simulated trip to the UMass Memorial Eye Center, following every step of a visit from registering and signing paperwork, to undergoing an eye exam and surgical procedure, and finally taking a walk around the beautiful gardens, which they were taught to appreciate differently by accessing their other senses of touch, smell and hearing.
Participants were observed during their visits and received feedback at the end of the simulation that detailed their behaviors: "She had difficulty signing her form." "She awkwardly found and sat in her chair." "He hesitated to walk through the doorway without his guide." Caregivers shared how difficult it can be to depend on someone else to guide them, and how disconnected some felt without the use of their eyes to inform them.
"I think an experience like this makes us all more compassionate and better caregivers," noted Dr. Schaal. "It's easy to get caught up in our busy days and rush. But a simulation like this teaches us to slow down and consider how our patients are feeling and what hurdles they may be experiencing during a visit. Taking the time to be sure they're comfortable, that we're not moving along too quickly – these are important mental notes we have to make to ensure we're delivering the best possible care and a positive patient experience."
ABOUT jessicakilham
Email author View all posts by jessicakilham