NPHCO and the Network Family
Posted by Javier Crespo on August 4th, 2021 Posted in: Announcements, Blog, NNLM, Public Health

---
NPHCO recently received the 2021-2026 extension to continue its work with the Network of the National Library of Medicine (NNLM).   In light of this, we wanted to share some  background on our home library, our sibling offices, and our funders.
The National Library of Medicine (NLM) coordinates a 6,500-member Network of the National Library of Medicine (NNLM).  The NNLM and its members  promote and provide access to health information in communities across the United States.  Members of the Public Health Digital Library program, all of you, are part of the Network.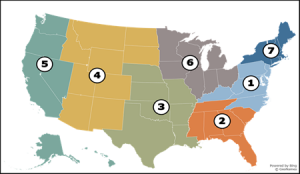 The Network of the National Library of Medicine is organized around seven Regional Medical Libraries.  Regional Medical Libraries carry out regional and national programs to promote access to NLM and information resources that advance the health information needs of the health care workforce, information providers, and the public.  Your Public Health Department is located in one of these seven regions and you have a Regional Medical Library.

Within the NNLM, National Coordinating Offices are created to perform unique functions.  The National Public Health Coordination Office was established to support the public health workforce through the Public Health Digital Library.  We also work with other RMLS and Offices to facilitate programs that engage public health offices and organizations in the work of the NNLM.

NPHCO and Region 7 RML, our sibling office, is located at the University of Massachusetts Medical School under the Lamar Soutter Library (LSL).  (We refer to LSL as our home library.)  LSL also acts as a Partner Library to a few of our member public health departments.

The National Library of Medicine is part of the National Institutes of Health and is the world's largest biomedical library.  The NLM produces electronic information resources on a wide range of topics which are searched billions of times each year by users from around the globe. It also supports and conducts research, development, and training in biomedical informatics and health information technology.
Read the blog post on the NNLM's 2021-2026 agreement on PHDL Me This.
ABOUT Javier Crespo
Email author View all posts by Javier Crespo