Finding PHDL articles in PubMed
Posted by Javier Crespo on June 7th, 2017 Posted in: How To

---
THESE INSTRUCTIONS ARE NO LONGER CURRENT. THEY ARE REPLACED BY THE NEW Instructions for the New PHDL Button.
As a user of the Public Health Digital Library you've probably seen our resource list of electronic journals. The list of titles allows you to browse the breadth of the collection. Departments using versions of the PHDL with the Filtering and Search options can browse through the collection's resource types or using keywords.

Users of PubMed have been able to call up articles from the PHDL collection when they see an icon of their own public health department. This feature (known as LinkOut) is a powerful tool for getting the most out of your collection in searching for the information you need. We have added a PHDL icon and location so that you can find articles using the PHDL icon which looks like this:

If you're using MyNCBI (and you should), you can set this up:
In your Manage Filters section under Browse/Search PubMed Filters, select LinkOut
Type 'NPHCO' in the search box and select Filter and Link Icon for Public Health Digital Library NPHCO
From here you can go back to PubMed and you should begin seeing the icon whenever you view PubMed in the Abstract Format. That's it.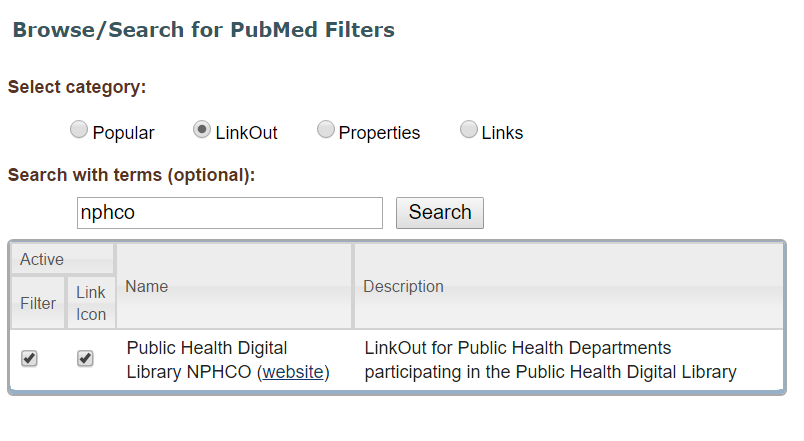 You'll need to view citations in Abstract Format to see the PHDL icon.
Your PHDL page has a PubMed link set to identify your content which may also be using a department-specific link. Your department should change this link so that it points to the PHDL content with the PHDL icon. That URL is https://ww.ncbi.nlm.nih.gov/pubmd/?holding=phdlnphco.
Making these changes is important: your department's content and icon will no longer be updated in PubMed: please move to using the PHDL-specific icon and the new URL to identify your PHDL articles!
ABOUT Javier Crespo
Email author View all posts by Javier Crespo