Coronavirus disease 2019 (COVID-19): PHDL and Other Resources
Posted by Cecilia Vernes on March 17th, 2020 Posted in: Blog
Tags: 2019-nCoV, CDC, coronavirus, COVID-19, novel coronavirus, PHDL, preprints, WHO, Wuhan
---
(Updated March 19, 2020)
As the coronavirus disease 2019 (COVID-19) outbreak continues, we want to remind PHDL users of the tools available that could help guide your department.
The National Library of Medicine has created a Coronavirus Disease 2019 (COVID-19) section resource guide with links to GenBank sequencing, clinical studies, public health emergency information, and patient education/consumer health information resources.
First, anyone needing quick access to COVID-19 research literature should use NLM's LitCovid.  LitCovid provides central access to articles in PubMed on the 2019 novel Coronavirus.  The tools make the research quickly findable by research topics:  overview, disease mechanism, transmission dynamics, treatment, case report, and epidemic forecasting. There's more on LitCovid in our post LitCovid, CORD-19, and Data Mining.
NLM has also created a new term and added it as a supplementary concept as a way to search for articles under suggested terms.  Here is a suggested PubMed search strategy to retrieve citations, including ahead-of-print citations, on SARS-CoV-2, also known as 2019 novel coronavirus or 2019-nCoV, and COVID-19:
You can enter the term to search with the broadest set of citations and narrow down your search set with a secondary concept.  Follow the most recent version of this search term in the NLM technical bulletin.
Below is a brief list of resources made available through publishers and other sources.
In addition to peer-reviewed journal articles, if you are seeking preprints, GoogleScholar will find them and so will the following other sites. Use the search string above without the publication date range statement.
Below are instructions on how to set up alerts in the above preprint services.

Where you see the pencil icon, click to the right of it on the signal symbol and that will take you to a new page.
Type in your email address and hit "Log In"
Name your alert and select the type of alert you want and then hit "Save".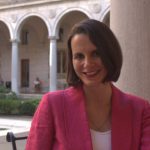 ABOUT Cecilia Vernes
Email author View all posts by Cecilia Vernes