2019-novel coronavirus PHDL and Other Resources
Posted by Cecilia Vernes on January 27th, 2020 Posted in: Blog
Tags: 2019-nCoV, CDC, coronavirus, COVID-19, novel coronavirus, PHDL, preprints, WHO, Wuhan
---
New name! The World Health Organization (WHO) announced the new name of the virus: COVID-19.
There is also a free online 3-hour course made available by the WHO. "Emerging respiratory viruses, including nCoV: methods for detection, prevention, response and control"
As the outbreak from the 2019-novel coronavirus (2019-nCoV), spreads we at the PHDL want to remind you of the resources available, as well as the additions made to the National Library of Medicine (NLM) list of terms so that you can find full-text articles that could help guide your department should you already have cases or suspected cases.
The NLM has created a new term and added it as a supplementary concept: NLM technical bulletin.  A new section covering the virus is now the NLM page
If you wish to search now and read later, connect to your PubMed site from your PHDL intranet page and type as follows:
PubMed had 6 citations as of Monday, January 27, 2020, covering this topic.
CABI Global Health has citations covering coronaviruses like SARS and MERS. Two articles are available currently in CABI on the new virus. They have also opened access to resources and instructions are on their Coronavirus…deja vu page
Additional content is available at the Disaster Management Information Resource Center (DIMRC)
Search for 2019-nCoV in disaster literature resources

And finally of the over 250 journals in our collection, some of the publishers have opened access to their latest articles on the topic:
For a data visualization of the outbreak, the Johns Hopkins Center for Systems Science and Engineering has created a map and data set for tracking around the globe. Wuhan Coronavirus (2019-nCoV) Global Cases
For genetic data on the virus see the NCBI genetic sequence database provided by the NLM, GenBank  2019-nCoV Sequences (Wuhan coronavirus)
In addition to peer-revied journal articles, if you are seeking preprints GoogleScholar will find them and so will the following other sites;
This link will take you to the latest results with a search using the term "2019-nCov". Alerts can also be set up using the Alerts/RSS link at the top right corner of the page.
Click on 'Paper Search' link at the top corner of the page and you will the latest tweeted preprints and a search bar will display.
F1000Research has a category of 'Disease Outbreaks' on its page and prints are available. The link here will go directly to that page.
Below are instructions on how to set up alerts.

Where you see the pencil icon, click to the right of it on the signal symbol and that will take you to a new page.
Select the type of alert you want and type in your search criteria.
For the coronavirus, I put in the MeSH working term 2019-nCoV and then saved the alert and it now appears listed under "Alert Criteria" below as a "Keyword/Author Alert"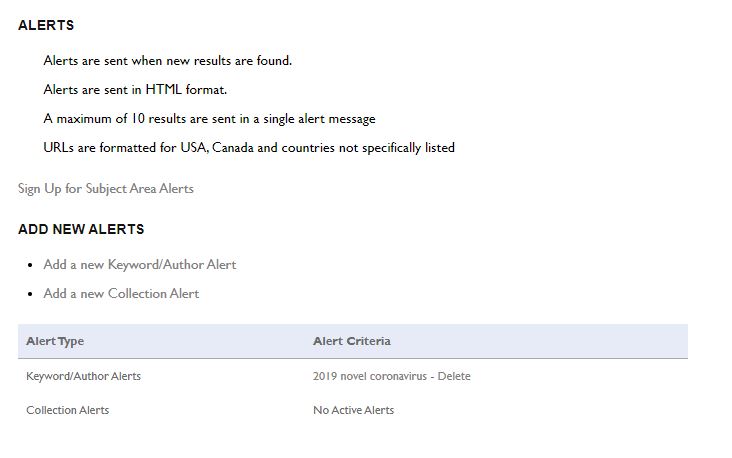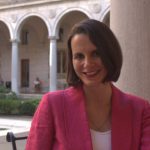 ABOUT Cecilia Vernes
Email author View all posts by Cecilia Vernes
Leave a Reply