Partner Libraries: Enhancing the PHDL Collection
Posted by Kathy Downing on August 5th, 2021 Posted in: Blog, How To, PHDL Resources, Regional Interest

---
The Public Health Digital Library is proud to partner with health science libraries

that are located in our members' communities.
Partner Libraries are members of the PHDL and the Network of the National Library of Medicine (NNLM).  They provide access to full text articles not in the PHDL collection.  They also support the PHDL's local instruction programs and can help with reference questions and projects.
2021-2022 Partner Libraries
East Carolina University Laupus Library                          East Tennessee State Univ. Medical Library
George Washington University Himmelfarb Library      Indiana Univ., Ruth Lily Medical Library
JABSOM Library University of Hawaii                              LSU Health Sciences Center Libraries
Maine Medical Center Library & Knowledge Services    Mass. Dept. of Public Health Library
Morehouse School of Medicine M.D. Edwards Library  Oregon Health Sciences University Library
Rhode Island Hospital Lifespan                                           State Library of Pennsylvania
TDSHS Library                                                                        UMass Medical School LSL Library
University of Alaska (Anchorage) Medical Library          University of AZ Health Sciences Library
University of Colorado Health System Library                 Univ. of Connecticut LM Stowe Library
University of Louisville Kornhauser Library                     Univ. of New Hampshire Durham Library
University of Washington HSL                                             Univ. of Utah Eccles Library
UVM Dana Medical Library                                                  UW Madison Ebling Library
Virginia Commonwealth University Libraries                  West Virginia University Libraries
Ordering an article through your partner library is easy.   When you create a login to the new PHDL site or access the new site from your office's network, your account is linked to your Partner Library's document delivery system.  Partner Libraries use a variety of methods to process requests.    Document Delivery forms include specific instructions for accessing and ordering from your Partner Library's interlibrary loan system.  So whether it is email or ILL, your contact  information along with the citation information of our article is sent to your partner library in as few steps as possible.
Your Document Delivery form can be accessed from the menu at the top of the PHDL page.   Here is a screenshot of a document delivery page: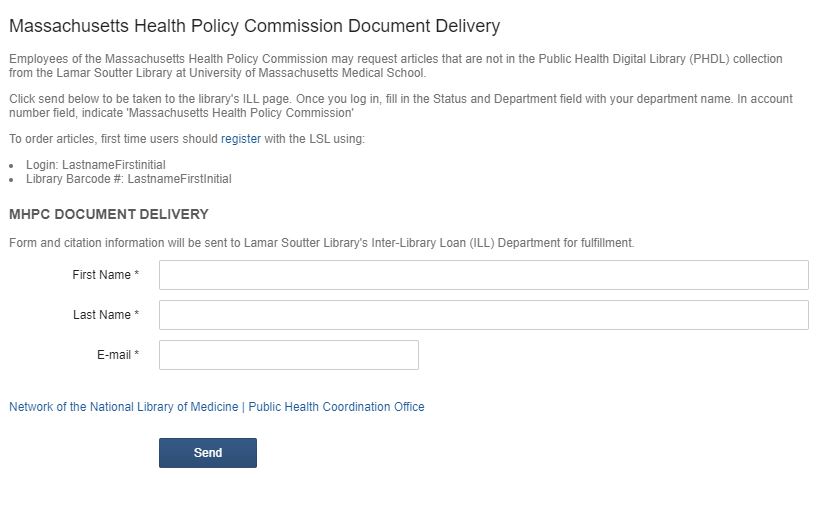 Please let us know if you have any questions about your partner Library of document delivery by emailing us at phdl@umassmed.edu.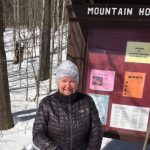 ABOUT Kathy Downing
Kathy Downing is the Public Health Digital Library Coordinator for the NNLM Public Health Coordination Office.
Email author View all posts by Kathy Downing