Ready or Not 2021 [Policy Report]
Posted by Javier Crespo on March 16th, 2021 Posted in: Blog

---
The recently released Ready or Not 2021: Protecting the Public's Health Against Diseases, Disasters and Bioterrorism  measured preparedness for health emergencies across the United States.  Ten key performance indicators were used to rank states' readiness, scoring 20 states (and District of Columbia) in a High Tier category and 15 states in both Middle and Low Tier categories.
Ready or Not 202 is an annual report put out by the nonprofit, nonpartisan Trust for America's Health (TFAH).   The report and its preparedness indicators provide data and recommendations for shaping policy and spending to strengthen public health readiness.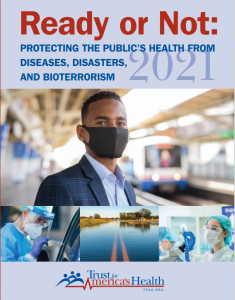 Most readiness indicators were factors in a state's ability to "control the COVID-19 pandemic and save lives".  Among the indicators were:
Nurse licensure compacting, allowing the nursing workforce to move readily across surge areas
Hospitals' commitments to local health care coalitions
Accreditation through bodies like the Public Health Accreditation Board or the Emergency Management Accreditation Program
Public health funding levels
Access and use to paid time off, affecting infection control
Flu vaccination as a reflection of a community response infrastructure
Public health laboratory testing capacity throughout a sustained surge
Along with recommending seven policy action areas to address funding, system-wide coordination, and resiliency, the report also documents and provides recommendations to address two factors not among the indicators but affecting the pandemic response.
The lack of support, direction, and overall response from federal agencies leading to "confusion and contradictory policies among states and weakened the emergency response
"The legacy of slavery, genocide, and racism combining with current day interpersonal and structural racism…at the root of the disproportionate impact COVID-19 has had on communities of color and Trial Nations."
While Ready or Not is an annual report, TFAH states the pandemic put a "spotlight on a public health system hollowed-out by years of insufficient funding where health departments responded to the pandemic with archaic technology and overworked staff."  The pandemic also revealed the harms from "stifling public health experts, political interference, and misinformation."
Find the report at https://www.tfah.org/report-details/ready-or-not-2021/.
ABOUT Javier Crespo
Email author View all posts by Javier Crespo