A Data Analytics Research Training Fellowship Opportunity …
Posted by Nancy Shin on November 20th, 2019 Posted in: Blog

---
The DART Fellowship is a cohort training and development program, including a two-day hands-on training at The University of Texas at Arlington followed by 5 online modules, providing a guided pathway for information professionals to acquire data literacy skills using common methodologies applied toward public health efforts. Throughout the program, the cohort will work collaboratively with guiding researchers – professionals currently engaged in the work the participants are learning – in order to complete a component of a research project.
There is no charge for participating in the program; in addition, travel scholarships are included with acceptance for all participants & guides.
Here, you can find more information on the DART Fellowship.
They will begin accepting applications on December 1st.  Please note though, priority will be given to those candidates that live and work in the South Central Region (SCR) of the USA.  Good luck!!!
Email questions or interested in serving as a research guide here.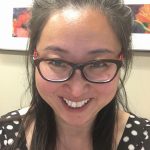 ABOUT Nancy Shin
I received my Bachelor of Science in the Integrated Sciences majoring in medical genetics and animal biology from the University of British Columbia (UBC). I also graduated from UBC's esteemed MLIS program with a focus on health librarianship. In 2018, I was the Research Data Management Sewell Fund Fellow for the Technology Incubator at Washington State University. Currently, I'm the NNLM PNR Research and Data Coordinator for the University of Washington's Health Sciences Library. In my spare time, I enjoy photography, drawing, cooking and baking, and travelling the world!!!
Email author View all posts by Nancy Shin