Consumer Health Minute: Family Health History
Posted by Carolyn Martin on November 12th, 2019 Posted in: Health Literacy/Consumer Health
Tags: consumer health, family health history, National Health Observances
---
In 2004 the U.S. Department of Health & Human Services with the U.S. Surgeon General's office, launched the public health campaign, The U.S. Surgeon General's Family Health History Initiative. This initiative highlighted the importance of knowing our family health history and its impact on our health. Knowing that many families gather during Thanksgiving, this initiative provides My Family Health Portrait, a free online tool to assist in these efforts. Today, this information now resides on the Family Health History webpage of the CDC where additional information can be found.
How can your library or organization encourage your community to learn more about their family health history?
family health history tools:
Knowing your family health history can help in family planning, early detection, and preventative steps. Taking the time to talk with family about their health may not be easy and it is important to respect privacy. These tools will provide guidance.
NNLM Book Club:
Apply for a free kit which includes your book choice from the list of selected titles focusing on family health history, a discussion guide, MedlinePlus magazines, book marks and brochures.
Libraries Transform toolkit:
NNLM has partnered with Libraries Transform to create a health literacy toolkit. Poster and bookmark templates, social media graphics, programming ideas and more are included in the free toolkit. Several because statements support family health history including:
Because Your Family Health History Matters
Because Your DNA Doesn't Have to be Your Destiny
Because Rare Diseases Are More Common Than You Think
Check with your NNLM Regional Medical Library  as some offer the posters and bookmarks for free.
National Health Observance toolkit:
NNLM provides toolkits to help libraries and organizations to increase awareness and provide information on a number of health and wellness topics to their communities. November includes National Family Health History Month with social media messages, programming ideas, and more.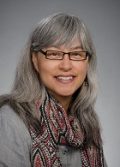 ABOUT Carolyn Martin
Carolyn Martin is the Consumer Health Coordinator for the NNLM Pacific Northwest Region. She works with various libraries and community organizations to increase health literacy in their communities.
Email author Visit author's website View all posts by Carolyn Martin