DataFlash: Applications Open for RDM 102 (Spring 2020)
Posted by Nancy Shin on December 5th, 2019 Posted in: Data Science, Training & Education
Tags: NN/LM, RDM 102
---
Applications Open for RDM 102: Beyond Research Data Management for Biomedical and Health Sciences Librarians (Spring 2020) Biomedical and health sciences librarians are invited to participate in a rigorous online training course going beyond the basics of research data management, sponsored by the National Network of Libraries of Medicine Training Office (NTO). This course will expand on concepts covered in RDM 101: Biomedical and Health Research Data Management Training for Librarians, and threaded throughout will be the librarian's role in research reproducibility and research integrity and include practice in using Jupyter Notebooks. The course topics include an overview of data science and open science, data literacy, data wrangling, data visualization, and data storytelling.
The program spans 9 weeks from February 24 – April 24, including 5 modules of asynchronous content, a catch-up week, and a synchronous online session during the week of April 20. The format includes video lectures, readings, case studies, hands-on exercises, and peer discussions. Under the guidance of a project instructor, participants will complete a Final Project to demonstrate improved skills, knowledge, and ability to support data science services at their institution. Expect to spend about 6 hours each week on coursework and the project.
Applications are due January 10, 2020.
Additional details, including application link, are available at https://wp.me/p8Qzkf-2LX.
For questions and concerns, please contact the NTO at nto@utah.edu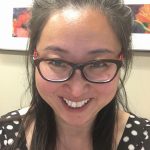 ABOUT Nancy Shin
I received my Bachelor of Science in the Integrated Sciences majoring in medical genetics and animal biology from the University of British Columbia (UBC). I also graduated from UBC's esteemed MLIS program with a focus on health librarianship. In 2018, I was the Research Data Management Sewell Fund Fellow for the Technology Incubator at Washington State University. Currently, I'm the NNLM PNR Research and Data Coordinator for the University of Washington's Health Sciences Library. In my spare time, I enjoy photography, drawing, cooking and baking, and travelling the world!!!
Email author View all posts by Nancy Shin