DataFlash: You Spoke and We Listened!
Posted by Ann Glusker on January 16th, 2018 Posted in: Data Science, Training & Education
Tags: consultation, data literacy, data survey, Data_Science, training
---
Happy New Year from your data gurus, Annie and Ann!   And welcome to the first post in our new blog series, DataFlash!   We both monitor a wide range of listservs, social media accounts, news sites and other troves of data information, and we'll be sharing what we come across, biweekly.
As a starting place, remember that survey we did last year, asking for your ideas about what the NNLM-PNR should be doing to help with your data needs? (The one with the fabulous NLM tape measure prizes?)  We completed the analysis and presented the findings to our Executive Committee last November (as well as sending out the tape measures), and now we're ready to release it to you!   Here it is!
Briefly, here's what you told us:
–You want training in data literacy and how to help patrons/users with data
–You want us to help with developing and sustaining collaborations
–You want us to provide specific assistance with things like how to help researchers with workflow, and by creating templates to help with assessing and managing data
–You'd also like training opportunities around informatics
We're planning several trainings already around research data management, and will be working towards offering more on the other topics you're interested in.  And we'll be contacting the folks who generously gave us their email addresses and said they'd be happy to chat further.    Watch this space for further developments, and please feel free to reach out if there are any ways we can help, if you need a consultation, have an idea for a training, or whatever!  And deepest thanks to everyone who participated in the survey—it's great for us to have this information!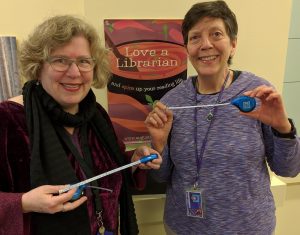 ABOUT Ann Glusker
Email author View all posts by Ann Glusker