Langlois Village Healthy Initiative
Posted by Carolyn Martin on July 18th, 2019 Posted in: Funding, News from Network Members, News From NNLM PNR, Public Libraries, Technology

---
Today's guest post is from Karen Schaefer, Director of Langlois Public Library in Oregon.  Langlois Public Library became a network member a little over a year ago when Karen learned about NNLM and began attending our classes. Her library applied for the Technology & Community award.  In this post, Karen shares how the library used the funding to start a health station and update its health collection.
What does a small town librarian do for fun?  She writes a cool grant (and gets it) to start a health station and update the health collection of the public library.  I first started working with the Pacific Northwest Region of NNLM, after I answered an announcement from my State Library. It was regarding a national program between public libraries and the National Network of Libraries of Medicine. They were looking for librarians to apply for an opportunity to bring health in to your library. I was accepted into the program and a year later wrote this grant for my library.
The library is in a small town (village really), and tends to have a higher number of older people coming in (just don't tell them they are 'older'). Now, I don't know if you know when this happened, if it did to you too, but it happened overnight to me. Bam, it was the day after my 40th birthday, no kidding. The previous night I could read the menu just fine, ordering my birthday dinner and all. The next morning I couldn't have seen the items on a menu if you were holding it from the table next to me. Then I got it – reading glasses are your new best friend!
The new Health Station is a best friend to our patrons who need a boost from the regular equipment in our 4 public computers.  Yes, I said 4 – we are very small. The health station is located in a nice quiet corner, nestled actually IN the "Health" section of the collection.  An over-sized monitor with special lighting and an ergonomically designed keyboard with large print keys, also with special lighting that comes up from the bottom – what more could you ask for – except a special mouse for those people with stiff, sore, or any kind of hands that need an easier mouse to hold on to.
Our 4 public computers already have MedlinePlus on them, but this computer has additional links of some of the more popular health sites like USDA and NIH, with its 27 different health sites and centers affiliated with it. Once I went through even the 'beginner' health and library classes, I quickly realized if my patrons were getting all of their health info from the internet, I wanted the information to also be as accurate as possible.  Then the collection was next. I had already learned from one of my class assignments, that I had a very outdated health section.  I remember saying to my web-mates and the instructor, that it was "pathetic".  I had already been the director for 4 years and the only health items I had added to the collection were about Lyme Disease. I had several patrons with it and I wanted them to have books and DVDs they could bring home. But what about diabetes, cancer, eating disorders, or stress disorders like panic attacks and depression!?
They are all available now, as well as board games, cards, and kits. The USDA has a program called choosemyplate.gov. Now the library has a kit and game to teach good healthy eating to children and their caregivers. Do you want to learn how to talk with your teenager better – about 'their' issues – checkout some of the junior and young adult books. Do you want to know how to deal with your own health issue – for me it is stress induced emotional eating right now. I went beyond the usual scary suspects  – cancer, heart, diabetes, lung disease, and Alzheimer's and I took it further than just physical – to emotional, family, and community health. All of these are important to a healthier you and a healthier community.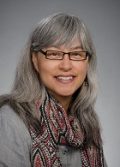 ABOUT Carolyn Martin
Carolyn Martin is the Consumer Health Coordinator for the NNLM Pacific Northwest Region. She works with various libraries and community organizations to increase health literacy in their communities.
Email author Visit author's website View all posts by Carolyn Martin