Library Services on Wheels
Posted by Carolyn Martin on April 11th, 2018 Posted in: News from Network Members, Public Libraries
Tags: bookmobile, outreach
---
In observation of National Bookmobile Day, Carmen Clark, bookmobile librarian for Bozeman Public Library in Bozeman, MT is providing a guest post today.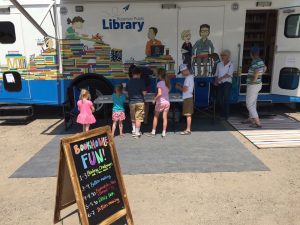 A few years ago, the Bozeman Public Library realized that there is a need for a mobile library in our rapidly growing city. After a very successful fundraising campaign by the Bozeman Library Foundation, our wish became a reality. On July 3rd 2017 we started our new Bookmobile program. We serve schools, assisted living facilities, mobile home parks and neighborhoods throughout Bozeman and Gallatin County. The Bookmobile functions as a mobile branch of the Bozeman Public Library. We carry materials for ages 1-101. Everyone is welcome on the Bookmobile. We carry board books, juvenile fiction and non-fiction books, fiction and non-fiction books for Teenagers, fiction and non-fiction books for adults and Large Print books for our elderly patrons. We also carry DVDs, audio books and Playaways as well as board games. Our board games are very popular, we are having a hard time keeping them stocked on the Bookmobile. The bookmobile visits our regular stops twice a month and we also have time to do special stops like the Farmers Market, the County Fair, the Christmas Stroll, and the Roller Derby etc.
The community has been very positive about the bookmobile service and here are a few of the comments we have received:
"This place is so cool; it's like a reading train." (5-year old boy)
"I am so glad there is a library. You know it is my favorite thing…reading." (4-year old girl)
"This is like an airplane." (5-year old boy)
"I really like the bookmobile, next time we should ride on it. (4-year old boy and his brother)
"Wow, I haven't been on a bookmobile since I was a kid." (Adult patron)
"Wow, this brings back memories." (Adult patron)
"You are the best; I really appreciate all the books about the Revolutionary War you brought for us today." (Teacher at an elementary school)
Watch the video about the bookmobile 
One of the great successes of our program is a rural one-room school with 12 students and one teacher. None of the children had library cards when we started the service to their school in September. Now, all the children have cards and regularly check out a variety of materials. Last week while we were at their stop, we ran into some mechanical problems. While waiting for our mechanic to arrive I helped the kids and their technology teacher figure out a library program called Tumblebooks. After that, the kids insisted on showing me their stop-motion movie they had made as part of their technology curriculum. Their next stop motion picture might star our bookmobile.
We have encountered a few challenges while starting this program. One of the first challenges was that we did not have a firm delivery date for the bookmobile. That made purchasing materials quite tricky. We wanted to have the newest bestsellers and new popular children's materials on board, but without a firm date, that proved to be difficult at first.
Another challenge has been the vehicle itself. We have run into a few mechanical issues that I definitely had not anticipated. I had assumed that it would be smooth sailing since it is a brand-new vehicle. After running into some of those issues, my mechanics have told me that it is actually quite normal to be having some issues in the first year.
Happy National Bookmobile Day! Please go out and find your local bookmobile, chat with your bookmobile librarian and check out a few books.
Carmen Clark has worked and volunteered in libraries for the last 23 years. She started out volunteering at the library on Camp Red Cloud in Uijongbu, Korea when her husband was stationed there with the U.S Army. She then went on to work for the Pierce County Library System as well as the Madigan Army Medical Center Library. After moving to Bozeman, she started as a substitute at the Bozeman Public Library. For a short while she worked as the interlibrary loan assistant before moving into a position as a reference librarian. She has been the bookmobile supervisor for over a year now. Most likely, she will stay with this job for the foreseeable future unless a packhorse librarian position will open up somewhere (which she concedes is a slim possibility).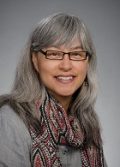 ABOUT Carolyn Martin
Carolyn Martin is the Consumer Health Coordinator for the NNLM Pacific Northwest Region. She works with various libraries and community organizations to increase health literacy in their communities.
Email author Visit author's website View all posts by Carolyn Martin