October is Health Literacy Month!
Posted by Michele Spatz on October 3rd, 2018 Posted in: All of Us, Blog, Funding, Health Literacy/Consumer Health, Health Observances, News From NNLM PNR, Public Libraries
Tags: health literacy
---
It's October – Health Literacy month. We've still much work ahead to improve how we deliver actionable health information for the nine out of ten U.S. adults who struggle to understand it. We know health literacy is complex and multi-faceted. It involves demands by the healthcare system which often surpass people's ability to comprehend and appropriately respond to those demands in order to support personal well-being. This month is a good reminder that low health literacy has real-world consequences, since it's well documented that individuals with low health literacy suffer poorer health outcomes. And it is precisely this aspect – that low health literacy worsens health disparities among the most vulnerable populations – which makes addressing this persistent challenge so compelling.
Health Literacy Month highlights the importance of doing our part to make health information understandable and actionable. We can do much to promote health literacy within our communities, from offering choices of health information resources that are easy-to-read, available in other languages, or are offered in an audio or visual format, to hosting health programming that responds to community health needs. Such programs create a non-threatening way to learn about a health concern or perhaps learn new skills to help improve personal health and well-being. Inserting a health module into adult basic education or ESOL classes is another viable approach that is typically well-received by participants. NNLM's current funding opportunities which are open through October 24, 2018, offer public libraries, or those health libraries or organizations with a public library partnership, the support needed to test a health literacy approach within the community.
To show your support for health literacy, NNLM and ALA continue to partner through the Libraries Transform Health Literacy public awareness campaign by offering a free Health Literacy Toolkit. The Toolkit, which requires signing up for a free account, features a selection of health literacy posters, bookmarks and program ideas. To help amplify this message, NNLM PNR is now making the Libraries Transform Health Literacy posters available free to its members. The posters offer thought-provoking "Because" statements; for example, "Because Libraries are Partners in a Healthy Community." And indeed, we are.  Order your poster(s) today!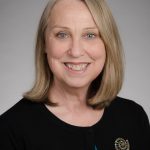 ABOUT Michele Spatz
Michele is the NNLM All of Us Community Engagement Coordinator for the Pacific Northwest. She has extensive experience providing consumer health information and a passion for health literacy. Michele truly believes, "Because of you, Libraries Transform.®"
Email author Visit author's website View all posts by Michele Spatz