PNR Rendezvous- All of Us Partnership
Posted by Carolyn Martin on February 13th, 2019 Posted in: All of Us, News from Network Members, News From NNLM PNR, Public Libraries, Training & Education
Tags: All of Us, health literacy, public health
---
Many of you have been hearing about the work of our All of Us Community Engagement Coordinator, Michele Spatz.  Michele has been highlighting the NIH All of Us Research Program in our region. This program is hoping to gather data from 1 million or more participants to help improve health through precision medicine and to be reflective of our diversity.  This PNR Rendezvous session will describe the NNLM All of Us Research Program partnership and what it means for libraries. It will then highlight the Journey, the All of Us Mobile Education and Enrollment Center's four-day visit to Hailey, Idaho, hosted by the Hailey Public Library. LeAnn Gelskey, Hailey Public Library director, will share her experience facilitating the Journey's visit. Come learn what's inside and how your library can "get on board" and benefit from the NNLM All of Us Research Program partnership.
The All of Us Journey continues to tour the country. Learn where they have been and future visits.
Session title: The NNLM All of Us Partnership & Inside the Journey
When: Wednesday February 20 at 1:00pm PT, Noon Alaska, 2:00pm MT
How to attend: Registration is encouraged but not required. Full information about joining the webinar is available on the PNR Rendezvous web page.
The session will be recorded but we encourage you to attend the live session where you can ask questions and dialogue with the presenters.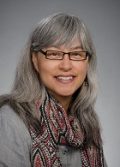 ABOUT Carolyn Martin
Carolyn Martin is the Consumer Health Coordinator for the NNLM Pacific Northwest Region. She works with various libraries and community organizations to increase health literacy in their communities.
Email author Visit author's website View all posts by Carolyn Martin