The NNLM Reading Club Honors World AIDS Day
Posted by Michele Spatz on November 29th, 2019 Posted in: All of Us, Blog, Health Literacy/Consumer Health, Health Observances, News from NNLM, News From NNLM PNR, Public Libraries
Tags: All of Us, consumer health, health literacy, HIV/AIDS, National Health Observances
---
The NNLM Reading Club is pleased to recognize World AIDS Day, celebrated each December 1st. Since World AIDS Day was first observed more than 30 years ago, scientific research has led to progress in preventing and treating HIV. Even so, today millions of people live with HIV and a cure is yet to be discovered. HIV remains a health threat because people don't know the facts about how to protect themselves and others. And those who are HIV positive live with the trauma of stigma and discrimination. Knowledge about HIV may lead to taking action to prevent its spread and also help reduce the stigma of this disease so those living with HIV receive needed support.
To help spark an important conversation about HIV/AIDS, visit the NNLM Reading Club Book Selections and Health Resources: HIV/AIDS Health. Choose one of the three featured books, then  download the discussion guide, promotional materials, and corresponding HIV/AIDS information. Short on time? We've got you covered! Apply for a free NNLM Reading Club Book kit.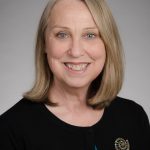 ABOUT Michele Spatz
Michele is the NNLM All of Us Community Engagement Coordinator for the Pacific Northwest. She has extensive experience providing consumer health information and a passion for health literacy. Michele truly believes, "Because of you, Libraries Transform.®"
Email author Visit author's website View all posts by Michele Spatz