Report on the 18th International Conference on Grey Literature in New York City
Posted by Alan Carr on December 6th, 2016 Posted in: Advocacy, Data, Funding, Outreach

---
by Kathleen Carlson, MLS, AHIP
Associate and Education Librarian
University of Arizona College of Medicine
Arizona Health Sciences Library (Phoenix)
Phoenix, AZ
I attended the 18th International Conference on Grey Literature, held November 28-29 in New York City. The two-day meeting was hosted by the New York Academy of Medicine on the upper east side of Manhattan. The theme of the conference was Leveraging Diversity in Grey Literature. My attendance at this conference was made possible by a Professional Development Award from the National Network of Libraries, Pacific Southwest Region.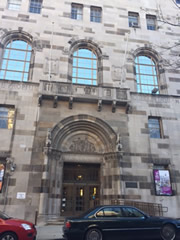 The last time the conference was held at the academy was in 2004. The meeting site alternates between Europe and the United States. The 19th Grey Literature Conference is scheduled for October 23-24, 2017, in Rome, Italy. The opening address was given by Dr. Anthony Shih, Executive Vice President of the NY Academy of Medicine. He talked about the Academy's mission to advance solutions that promote the health and well-being of people in cities worldwide. How does the academy accomplish this? (1) Through the Institute for Urban Health; (2) the historical medical library; and (3) the Fellows Program. The NY Academy does a good deal of outreach since it is located on the edge of Spanish East Harlem. A walking map of the area was distributed to attendees, which showed several places the Academy serves, including the East Harlem Asthma Center of Excellence, the Neighborhood Health Action Center, The Africa Center, El Museo del Barrio, community gardens, and the New York City Department of Health.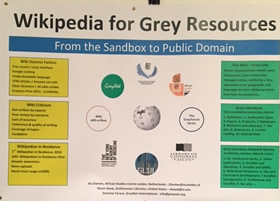 The Keynote address was given by Taryn Rucinski, US Courts Library, Southern District of New York. The topic of her talk was A Walk on the Law Side: Strengthening Collection Diversity through the Integration of Grey Legal Resources. Ms. Rucinski presented a working example of how grey literature was instrumental in the Klamath Basin Water Crisis and how Native American Tribe resources, multiple government resources, and non-profit organizational websites over ten years created the extensive grey literature holdings on this topic. Subsequent sessions for the day were split into the following two areas, with examples included.
Session I – Diversity in Publishing and Disseminating Grey Literature
Collecting, organizing and preserving diverse publication sources for the good of one community archive. The speakers are creating a formal mechanism of documenting and analyzing the effects of the bicycling culture in the city of Indianapolis. The bicycling community creates records in comments sections of blogs and online newspaper articles, which include personal snapshots and reflections published via social media platforms that are of an ephemeral nature. Their paper explored the legal issues related to collection, organization, and preservation of relevant content that is available through the web, sometimes free and sometimes behind pay walls.
Session II – Open Access and Shared Grey Resources
Looking for Information that is Not Easy to Find: An Inventory of LibGuides in Canadian Post-Secondary Institutions Devoted to Grey Literature. This project is an investigation of grey literature LibGuides within university and college communities across Canada. The presenters are documenting categories of areas and disciplines, showcasing how grey literature LibGuides play a pivotal role in research pursuits at academic institutions. Bridging the Knowledge Gaps: What Grey Literature does for the Library of Congress covered the creation of the Indigenous Law Portal, the current resources, and the ongoing research on indigenous groups of Central America.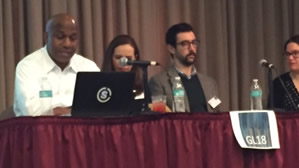 There was a brief lightning round of poster presentations, followed by a more detailed session on Day 2. Many of the session presenters appeared to also have posters about their subject matter. The day closed with a special tour of the Drs. Barry and Bobbi Coller Rare Book Room at the New York Academy of Medicine.
The second day of the conference began with a panel, Data: Its Use and Preservation. Participants were Norma Padrón, Associate Director of Population Health Research; Fred LaPolla, Knowledge Management Librarian, New York University School of Medicine; and Plato Smith, Data Management Librarian, University of Florida Libraries. Data is considered to be a key component of grey literature but most data is not indexed, published, or controlled in a way that is easily accessible or findable. Ms. Padrón spoke about what is meant by big data and why it is important to know what it is and how data can be used to improve health; Mr. LaPolla talked about how to find data-sets, their availability, and what NYU Health Sciences Library has done to make them discoverable; and Mr. Smith discussed how stakeholders are involved in data management planning and data lifecycle processes. Smith is developing a dataset collection using Zenodo, an open access research data repository. Presentations for the remainder of the day were again divided into two areas.
Session III – Altmetrics, Aggregating Data and Semantic Analysis
Applying discourse analytical methods to deepen understanding of user needs in an asynchronous information environment. This presentation is part of an ongoing long-term study aimed at identifying the information needs of incarcerated people. They have no online information sources and researchers have no or limited access to incarcerated people. Prisoners express their information needs in hand written letters sent to the NY Public Library, which in turn makes this unique dataset available to researchers. This results in an asynchronous and indirect form of communication between researcher and subject. The presentation focused on the interpretive methods portion of the study, explaining the rationale of the methods and their applicability to the dataset.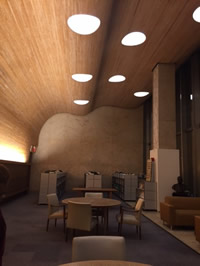 Session IV – Fueling Public Awareness to Grey Literature
The GreyLit Report: Understanding the Challenges of Finding Grey Literature. This study explored how researchers share grey literature, and found that they speak with colleagues, subscribe to listservs and newsletters, and go to organizational websites to find current material. The GreyLit Report, developed in 1999 by the New York Academy of Medicine, is a centralized location providing easier access for health researchers seeking grey literature in their field.
Closing thoughts
I am now more aware of grey literature resources and have a better appreciation for the multitude of subjects areas dealing with enormous amounts of publishing and data. The New York Academy of Medicine is at the forefront of indexing grey literature with their GreyLit Report website as well as the GreyNet International website. There are times when I find locating grey literature on a given subject to be daunting, but I have learned from librarians, especially in Europe, that many of their countries' reports, presentations, and papers are not indexed. I want to thank the NN/LM PSR for the generous Professional Development Award that allowed me to learn more about grey literature, which will be especially important in providing support to students enrolled in the Global Health Certificate of Distinction at the University of Arizona College of Medicine, Phoenix.
ABOUT Alan Carr
Alan Carr is the Associate Director, National Network of Libraries of Medicine, Pacific Southwest Region, based at UCLA.
Email author View all posts by Alan Carr