Highlights of Arizona Outreach in 2013-2014!
Posted by Alan Carr on August 18th, 2014 Posted in: Affordable Care Act, Consumer Health, Funding, K-12 Resources, MedlinePlus, NLM Products, Outreach, Public Health, Training

---
By Yamila El-Khayat, Outreach Services Librarian and
Jeanette L. Ryan, Deputy Director
Arizona Health Sciences Library
University of Arizona
Tucson, AZ
Our outreach goals for Arizona are to provide programs to a variety of audiences and to respond to needs in a timely manner, and to improve health literacy and access to accurate health information statewide. We aim to facilitate access to high quality, current, and reliable health information through training, consultation, and collaboration. Specifically we specialize in presenting training and workshops around the state that assist librarians, health professionals, K-12 students, and members of the public become more effective users of the Internet and electronic resources. We had several highlights this year.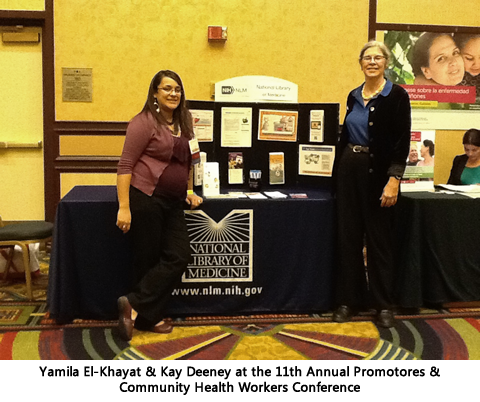 One of the highlights was Yamila El-Khayat's opportunity to attend, exhibit, and present at the 11th Annual Promotores and Community Health Workers Conference, December 6-7, 2013, in Los Angeles. The meeting is sponsored by Vision y Compromiso, whose main goal is to advance the work of promotores, along with strengthening their skills with tools and data. This conference, held annually, attracts promotores and community health workers from as far away as Washington and Maryland. It was a wonderful event that gave inspiration to the work that is done in trying to promote healthier communities across the United States. This year's conference theme, Cultivating Our Strengths Towards a Dignified and Healthy Life, focused on the importance of culture and traditional practices that families follow in order to stay healthy. It gave everyone the opportunity to reflect on history, tradition, family, the future, and how we can continue these practices in healthy ways. Yamila El-Khayat presented a workshop with an interesting twist called Reliable Health Information on the Internet (Como buscar sitios con información confiable sobre la salud!) The two-hour workshop, conducted entirely in Spanish, integrated Latino popular music and key scenarios relevant to Latinos for participants to act out and discuss, ending with a talk about the importance of health information, with an emphasis on MedlinePlus. Yamila had another opportunity to present in Spanish when she talked about consumer health resources to promotores and community health workers associated with the Downtown Planned Parenthood, also in Los Angeles.
Diana Almader-Douglas, a National Library of Medicine 2nd year Associate Fellow who spent the year at AHSL, developed and presented a health integration series for behavioral health providers. The series included three parts: (1) Using MedlinePlus and the Internet to Improve Your Health, (2) Finding Reliable Mental Health and Substance Abuse Information on the Internet, and (3) Health Literacy 101. It was presented to the Community Partnership of Southern Arizona, which operates a regional behavioral health agency, over the course of several weeks. The audience consisted of professionals, workers, and clients. She also assisted with their website. It was very well received. We're hopeful that we can make use of her curriculum in the future.
Yamila El-Khayat was asked to develop and deliver a webinar on the Affordable Care Act for librarians. The information about the ACA in Arizona was scanty and no one knew who was in charge. Librarians had been hearing for weeks that they could expect a deluge of questions. Yamila did an excellent job in pulling information together for the webinar. This was one of the first times many of the attendees had heard anything concrete about the ACA. There were 119 participants.
And finally, we continued our very successful outreach program with high school students. Our "how to do research" class focuses on the importance of identifying reliable resources, the differences between consumer health (MedlinePlus) and the biomedical literature (peer-reviewed, PubMed), and Boolean logic. At one high school, we did five different biotechnology classes on one day. The teachers love the class. One teacher commented that it changed people's lives! We also participated in the Tucson Festival of Books again this year, now reportedly the sixth largest book fair in the country. Mr. and Ms. Skeletoni, and their kids made an appearance. Annabelle Nunez passed out 500 skeletoni kits and talked with kids about the importance of information related to the body and health.
ABOUT Alan Carr
Alan Carr is the Associate Director, National Network of Libraries of Medicine, Pacific Southwest Region, based at UCLA.
Email author View all posts by Alan Carr