Highlights of Arizona Outreach in 2015/2016!
Posted by Alan Carr on June 30th, 2016 Posted in: Consumer Health, Funding, K-12 Resources, Outreach

---
by Yamila El-Khayat, M.A.
Outreach Services Librarian
University of Arizona Health Sciences Library
Tucson, AZ
The University of Arizona Health Sciences Library has had the opportunity to reach a number of audiences and do a number of activities with the support of our cooperative outreach agreement from the NN/LM PSR. Our main goal is to improve health literacy and expand access to reliable health information for all by providing open public sessions, consultations, and collaborations with community groups interested in increasing the health and well-being of Arizona residents.
This year our efforts in working with the Kinder – High School aged kids was expanded. Along with being invited by teachers in the high school group to teach in their classroom, this year we were also invited by the JTED (Joint Technical Education District) group. In particular teachers from the Cosmetology and Health Career Exploration sub-section contacted us with an interest in having us teach their students about reliable health information and how to access it. This has grown and is now opening the doors to other prospects within the state to reach this audience.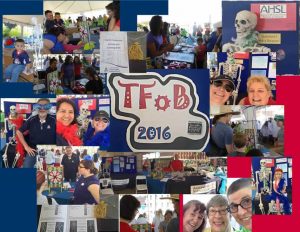 Our relationship with the school districts has also flourished. This year we attended a number of meetings in which the topic of health literacy for children at a young age was raised. We are currently working to prepare sessions to incorporate into the elementary school curriculum, including their school gardens and concepts of health, nutrition, and well-being. Along with having a presence at the Tucson Festival of Books, we were also invited to participate in the 2016 Connect2STEM and the 2016 Gila County STEMFest, opportunities that helped us reach more than 800 students interested in STEM (Science, Technology, Engineering and Mathematics) career fields. Highlights of our booth included learning about "Medical Librarianship" and information about different consumer health resources available to them. It was very fulfilling to see participants take away new knowledge and embrace it!
Due to our experience in working with several audiences and our expertise in health literacy, we were also contacted by a U.S.–Mexico border clinic to talk to their Community Health Workers, Nurse Assistants and Medical Technicians about health literacy and how it impacted communication within a healthcare setting. The presentation was very well received and we are now making plans to conduct similar presentations for other clinics in this region.
Throughout the year we have had the opportunity to talk to more than 2600 individuals, with a total of 31 projects, exhibits and presentations. The partners we have fostered and continue to work with have been key to the work that we have done and our success. They help us understand their clientele and successfully prepare programming to reach our goal of increasing health literacy for everyone in the state of Arizona.
ABOUT Alan Carr
Alan Carr is the Associate Director, National Network of Libraries of Medicine, Pacific Southwest Region, based at UCLA.
Email author View all posts by Alan Carr