A Librarian Experiences EMT Training
Posted by Alan Carr on April 1st, 2014 Posted in: Advocacy, Consumer Health, Emergency Preparedness and Response, Public Health, Training

---
by Adele Dobry
Nursing Informationist, Louise M. Darling Biomedical Library
University of California, Los Angeles
During my four years working at the UCLA Louise M. Darling Biomedical Library, I have gradually increased my involvement with the Department of Nursing, with the goal of becoming an embedded librarian. I currently participate within nursing research committees and Magnet councils and my next step toward embeddedness is to join nurses in a clinical setting. However, the Ronald Reagan UCLA Medical Center has strict guidelines on who can participate in a clinical setting, which requires certification. A nursing colleague suggested that I enroll in the Emergency Medical Technician course to meet these requirements, and upon completion, provided an invitation to round with her unit.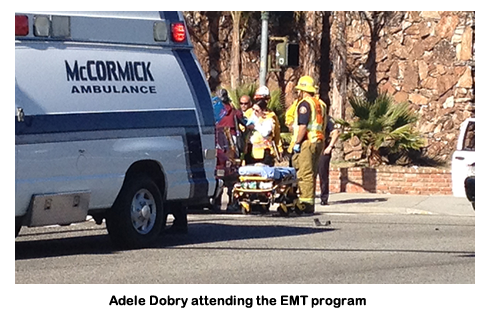 The Emergency Medical Technician course offers several scheduling options, but many were incompatible with my normal working hours. I decided on the evening program, which was held on Tuesday, Wednesday, and Thursday nights, from 6pm to 10pm, for 11 weeks. I quickly learned to appreciate what my nursing students must go through going to work and attending classes late at night. It was quite a character building experience! In the months preceding the course, I required prerequisites for the first day of class, which included medical requirements, a series of vaccinations, a physical, basic first aid training, and CPR/AED for health provider's instruction.
The first day of the course began with something very basic, medical terminology. My first assignment was to memorize about 300 prefixes, suffixes, word roots, and abbreviations. This helped tremendously in my understanding of medical vocabulary. I wish I had thought of this on my first day at Biomed! The next major subjects covered throughout the quarter were: anatomy, physiology, airway/ventilation/oxygenation, patient assessment, Basic Life Support (BLS) resuscitation and Automatic External Defibrillator (AED), respiratory emergencies, immunologic emergencies, neurologic and endocrine emergencies, hematologic emergencies, environmental emergencies, toxicology, psychiatric emergencies, gastrointestinal and urologic emergencies, shock, trauma, bleeding and soft tissue emergencies, burns, orthopaedic injuries, head and spine injuries, chest injuries, geriatric and pediatric emergencies, obstetrics and neonatal care, triage, and HAZMAT. This was a lot of information to learn in one quarter and required several hours outside of class time for studying. The skills component was particularly challenging to learn and required a bit of practice to master. Luckily, I was able to meet with other students before class to practice.
The understanding I gained of medical procedures and terminology has helped improve my understanding of nursing subjects researched. Now instead of relying solely on my librarian skills for searching topics, I actually have a deeper understanding of what I am researching. It has improved my reference interviewing skills with nurses and nursing students, because they appreciate that I have an increased understanding of medical topics. I can more readily and quickly obtain search results as well.
I also gained an appreciation for the mental, emotional, and physical challenges of the medical profession. There was a considerable amount of subject matter to learn in a short amount of time. I am sure this was only a small sample of what coursework in nursing or medicine must be like. More challenging than the intellectual component was the emotional element. Certain topics triggered unpleasant memories of situations or diseases experienced by loved ones, while other subjects exposed the ugliness of humanity. I do not know how health professionals deal with these situations. I admire their strength. Lastly, I experienced some of the physical challenges. For skills, I would have to squat for extended lengths of time, kneel for extended periods of time, or practice picking up a patient (a fellow student). My knees were bruised and my thighs sore all quarter as a result! My back would hurt for several days after lifting and moving a classmate. It is encouraging to know I am capable of it though. I also discovered that sitting in the back of an ambulance for 12 hours creates aches, too.
As part of the clinical component of class, I had to go on a total of 24 hours of ambulance ride-a-longs. My first ride was 10 hours of inter-facility patient transfers. Most were End Stage Renal Disease patients who needed transport to a dialysis center. I realized firsthand how important preventive care is and how community based participatory research, public health, and consumer health programs may help decrease the incidence of certain diseases in at-risk populations. My second ride-a-long was a 14-hour shift with an ambulance company contracted with the City of Los Angeles Emergency Services. These were 911 calls. The last call of my shift was for a patient who had been stabbed several times, had lost a considerable amount of blood, and was in hypovolemic shock as a result. After assessing the patient, applying pressure to bleeding wounds, packaging the patient, and treating for shock during transport, we arrived at the Ronald Reagan UCLA Medical Center Emergency Department, a Level One Trauma center. I was impressed to find a team of Emergency Department doctors and nurses waiting outside for our arrival. We immediately transferred care of the patient and the emergency team began treatment. It was amazing to witness the UCLA Medical Center Emergency Department at work!
The EMT program introduced me to a new area to provide information services. From my experience as a student in the EMT program, I discovered that the UCLA Center for Prehospital Care at the David Geffen School of Medicine contributes to Evidence-Based Practice in Emergency Medical Services (EMS) and publishes in EMS journals. I plan to introduce the Library resources and work collaboratively with the Center to enhance EMS EBP research at UCLA.
ABOUT Alan Carr
Alan Carr is the Associate Director, National Network of Libraries of Medicine, Pacific Southwest Region, based at UCLA.
Email author View all posts by Alan Carr