A "Quint*Essential" Experience!
Posted by Alan Carr on November 7th, 2014 Posted in: Advocacy, Training

---
by Ellen Aaronson, AHIP
Medical Librarian
West Hills Hospital & Medical Center Library
West Hills, CA
Denver, Colorado, was the site of the first Quint*Essential Meeting in October 2014. An NN/LM PSR Professional Development Award afforded me the opportunity to participate in this collaborative convergence of five MLA chapters. My interest in attending was two-fold: I served on the Planning Committee as Co-Chair of the Evaluation Committee, and was also a poster presenter.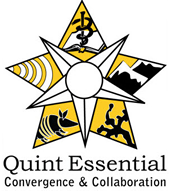 Being part of the planning team for a meeting of this size gave me a courtside seat from which to view every intricate detail. My Co-Chair and I were charged with developing and administering evaluation tools for both attendees and vendors. We worked with an 18-member Planning Committee and our 10-member Evaluation Committee over the course of 18 months to research and select an evaluation resource, analyze past questionnaires, and create surveys for approximately 400 participants. Attending the conference gave me the opportunity to speak directly to the exhibitors as we hand-delivered and retrieved their print surveys. I was also able to get first-hand input from attendees during the course of the meeting. This will be valuable data when putting together our final report.
Much of the focus during the Quint Meeting was on systematic reviews and this past year and a half I had the opportunity to be part of the MLA Systematic Review Project. Our team of 13 conducted a systematic review of research looking for evidence that the presence of a librarian improves patient outcomes, increases research dollars, improves student outcomes, or increases hospital intelligence. We followed research protocols under the direction of our team leader, Laure Perrier, and recently published our results in the Journal of the American Medical Informatics Association. I was honored to assist in presenting our poster at the Quint Meeting. I learned a tremendous amount about evaluating material while working with my team, and was able to take the MLA continuing education class in Denver on the role of librarians in systematic reviews, taught by Margaret Foster and Ahlam Saleh. They presented the basics of evaluating the literature, explaining that a systematic review can be considered "a study of reviews." Emphasis was placed on the differences between a narrative or literature review, a meta-analysis, and a systematic review. An overview of the steps: define the research question, develop search criteria, select the articles, assess and code the data, and synthesize and write up the results, presented a good progression of the systematic review process. The instructors prepared a workbook which included case study activities and evaluation criteria and standards. One of the handouts was an extensive resource booklet including the typology of a review, Cochrane Handbook structure of search strategies, the PRESS (Peer Review of Electronic Search Strategies) checklist for reporting, and The Institute of Medicine Standards for Systematic Reviews, along with a variety of coding forms and consulting worksheets. This class should definitely be a prerequisite for anyone considering work on a systematic review project!
I was a moderator for the session on systematic reviews at the Quint Meeting, one of which was on the value of qualitative research, the other two stemming from the MLA Research Project that I had worked on. This session was extremely well attended and was followed by a lot of interactive discussion between the presenters and the attendees. Being a part of the Quint Meeting was a unique experience. I worked with a great group of professionals, networked with colleagues, and danced the night away with good friends! Many thanks to NN/LM PSR for supporting this opportunity.
ABOUT Alan Carr
Alan Carr is the Associate Director, National Network of Libraries of Medicine, Pacific Southwest Region, based at UCLA.
Email author View all posts by Alan Carr