Arizona Hosts 41st Annual Rural Health Conference
Posted by Alan Carr on August 25th, 2014 Posted in: Affordable Care Act, Consumer Health, NLM Products, Outreach, Public Health

---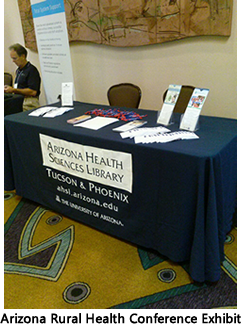 By Yamila El-Khayat, Outreach Services Librarian
Arizona Health Sciences Library
University of Arizona
Tucson, AZ
This year, on August 7-8, Arizona hosted its 41st annual Rural Health Conference and 9th Annual Performance Improvement Summit. The focus of this conference was access to healthcare and support for rural areas with attempts to build partnerships to strengthen projects and programs all across the state, along with other topics of interest such as the Affordable Care Act (ACA). Participants included Critical Access Hospital CEOs, CFOs, CNOs, Quality Managers, and IT personnel.
The conference was hosted by the Center for Rural Health at the University of Arizona Mel and Enid Zuckerman College of Public Health, attracting 146 registrants. It was held in Litchfield Park, a suburb of the Phoenix area, making it a central location for attendees. The conference consisted of both sessions and informational exhibits. The keynote speaker was Mr. David Saÿen from the Regional Centers for Medicare and Medicaid Services in San Francisco, who noted the ACA benefits and what it meant for Arizona.
The event also included exhibitors, one of which was the Arizona Health Sciences Library, offering information about both MedlinePlus and PubMed. This opportunity to talk to administrators of rural area hospitals and clinics was unique, and it offered a chance to provide them with information about the possibility of providing training at their institution for both consumer health communities and providers wanting to learn more about navigating resources from the National Library of Medicine.
ABOUT Alan Carr
Alan Carr is the Associate Director, National Network of Libraries of Medicine, Pacific Southwest Region, based at UCLA.
Email author View all posts by Alan Carr