A Survey of Biomedical Informatics: The Woods Hole Experience
Posted by Kelli Ham on October 9th, 2013 Posted in: E-Science, Electronic Health Records, Emergency Preparedness and Response, General, NLM Products, Training
Tags: biomedical informatics, Woods Hole
---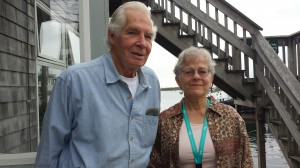 Among medical librarians, the phrase 'Woods Hole' is synonymous with a week of immersion into the topic of biomedical informatics. For those who haven't experienced it, the idea of attending is intriguing yet daunting. Those who have attended return to their home institutions with a new appreciation and enthusiasm about the field. Through a combination of lectures and hands-on computer exercises, participants are introduced to the conceptual and technical components of biomedical informatics; including medical terminologies, electronic health records, medical decision analysis methods, clinical information systems architectures, consumer informatics, and many other related topics.
Since the first session in 1992, the National Library of Medicine typically sponsors the week-long survey course twice each year, bringing 30 fellows to each of the spring and fall sessions. NLM also fully supports the costs of attending this course, including travel, housing, and meals. I was fortunate to attend during a week of perfect weather in September! At the opening reception, we were welcomed by Dr. Donald Lindberg and the Course Director Joyce Mitchell from the University of Utah, who described the week to come as "an informatics sampler." We could expect demonstrations of various teaching methods as well as content, and we would have the opportunity to consult with faculty and other participants. One goal was to leave the course with all questions answered; the other goal was to determine how we might become 'change agents' in our own institutions.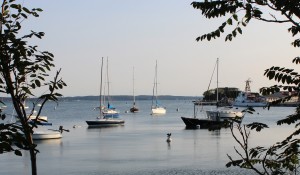 Woods Hole is a small fishing village in the town of Falmouth, Massachusetts, on the southwest corner of Cape Cod, a short ferry ride from Martha's Vineyard. However, the idyllic setting is just one aspect. Woods Hole is the home to numerous renowned marine biology research institutions, including the Marine Biological Laboratory (MBL), a training and educational research center in biology, biomedicine, and environmental science. The MBL was founded in 1888, making it the oldest private marine laboratory in the country. With comfortable dorms, a nearby cafeteria, and a pleasant classroom right on the water, the MBL was the perfect host institution.
The attendees in this cohort included 16 medical librarians from a variety of settings, 12 practicing clinicians, residents, and researchers, and 2 professionals with BA/BS degrees. Seven attendees had additional degrees (MPH, MS, MIS, MPAS.) Professional settings included academia, corporate, community organizations, and government. We learned that 102 applications were received for the fall session.
During the opening reception, I saw some familiar faces. Current and former NN/LM employees Meredith Solomon and David Tolmie were there, plus PSR network member librarian Carol Ann Attwood from the Mayo Clinic in Phoenix. In addition, Dr. Donald Lindberg and Rex Robison from the National Library of Medicine were there. Rex works on the MedlinePlus team, and he also works on MedlinePlus Connect.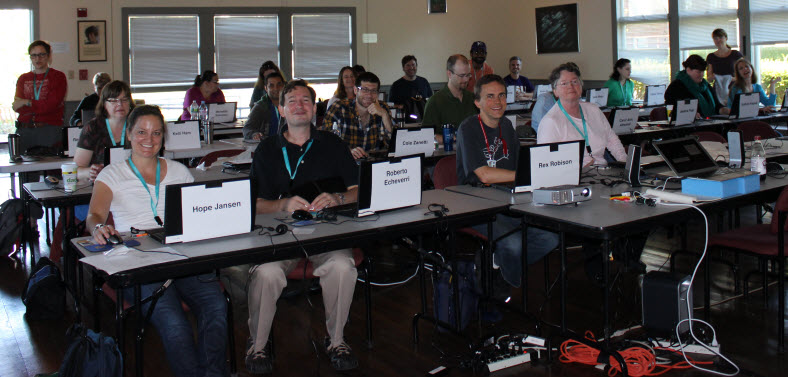 Day after day, we were treated to talks and workshops by a fabulous faculty. A unique aspect of this course is not only the remarkable opportunity to learn from experts in their respective fields, but the ability to have access to these people throughout the week. We were fortunate to have Dr. Lindberg in attendance at many of our sessions. Students were able to have conversations with faculty over a meal or a drink, fostering new ideas about how to put into practice the things we were learning back in the real world.
The week started with introductory sessions to provide a foundation for the rest of the material. For each participant, certain sessions were more relevant than others. While I won't attempt to describe all twenty sessions and the additional evening workshops, every session was interesting and provided ample food for thought. Several sessions related directly to my current consumer health coordinator role, such as "Consumer Informatics and Social Media" and "Telehealth and Mobile Devices," both excellent presentations by George Demiris. Also, Leslie Lenert's talk "Meaningful Use of Electronic Health Records" was relevant as I consider ways to promote MedlinePlus Connect in our region. Other talks were simply fascinating, such as Marcelo Fiszman's demonstration of Semantic Medline, the NLM system that enables search and discovery based on meaning contained in textual content rather than key words or subject headings. A final highlight was the opportunity to hear Dr. Lindberg talk about Disaster Information Management and the role of medical informatics in disaster preparedness and response.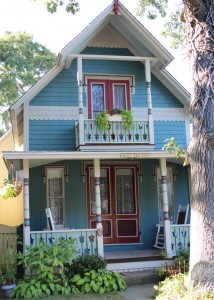 In recognition of this effort, librarians were eligible to receive 40 CE units from MLA, as long as they attended every session including all three evening workshops. On days that included a workshop, we started at 8:30am and finished at 9pm, which made for very long days with much to absorb. Even so, the instructors kept things interesting and interactive.
While it sounds like all work and no play, the schedule allowed for generous breaks. A few special opportunities were scheduled during our lunch hours, including a tour of the Rare Books room at the Lillie Library and the Marine Resources Center (MRC), the research facility that provides aquatic specimens for researchers, among other things. Need a squid? Look no further than the MRC! Another tradition is to break early on Wednesday afternoon, allowing participants a welcome respite. Most people took the ferry to Martha's Vineyard for a walking tour which included the famous gingerbread houses near the Methodist Tabernacle camp meeting structure.
We were treated to a fabulous lobster feed on Friday night. A resourceful classmate arranged for a special event afterwards, turning our daytime classroom into a movie theater with a showing of Jaws, the famous 1975 movie which was filmed nearby in Martha's Vineyard and Edgartown. It was a fun and memorable way to get together with new friends for our final night in Woods Hole. Being completely away from work, home, and all familiar things can be taxing, but the week went by quickly. By the end of it all, new friendships were made and collegial networks were built. The final Saturday morning was spent with one last session and then a recap of the week. We were all challenged to start envisioning how we might become 'change agents' in our own institutions in the weeks and months to come.
The Woods Hole experience is like no other. Without question, the course is a very worthwhile and memorable experience; I highly recommend it for other medical librarians! Regardless of an individual's specific expertise, job duties, and environment, there will be sessions and content that will either directly relate to one's position or will provide food for thought in new areas of interest. Announcements typically come out in the late fall of each year for the following year's sessions; however, the schedule next year might be slightly different. An RFP (Request for Proposal) was recently published for the next five-year contract for an institution to host the course. The announcement of the winning contract should be made early next year, which may mean that the course schedule for 2014 will be different than in past years. Be on the lookout for an announcement to apply for the next offering, and consider attending!
ABOUT Kelli Ham
Kelli Ham is the Consumer Health Librarian at the National Network of Libraries of Medicine in the Pacific Southwest Region, based at the UCLA Biomedical Library. When she's not extolling the virtues of MedlinePlus, Kelli can be found hiking local trails or working in her organic garden and native landscape.
Email author View all posts by Kelli Ham