Browser Advice for NCBI Web Pages
Posted by Marco Tamase on August 27th, 2012 Posted in: NLM Products, PubMed, Technology

---
Occasionally the settings in PubMed don't operate the way they did the day before. This may be due to a change to PubMed by NCBI. Sometimes this change affects only a small number of users. One way to avoid problems is to make sure that your browser settings are up-to-date. This is especially challenging when you have no control over what browser version you are using. At many institutions, IT personnel are reluctant to jump on the bandwagon for the latest upgrades. This can be wise because often all the bugs have not been worked out yet. It also can be a lot of work to roll out the changes depending on how the workstations are configured and maintained.
Often your IT support staff needs to look at firewalls, make http://www.nlm.nih.gov/ and http://www.ncbi.nlm.nih.gov/ trusted sites, enable cookies, Java Script (scripting), pop-ups, and make sure the date, time, and time zone settings are correct on your computer.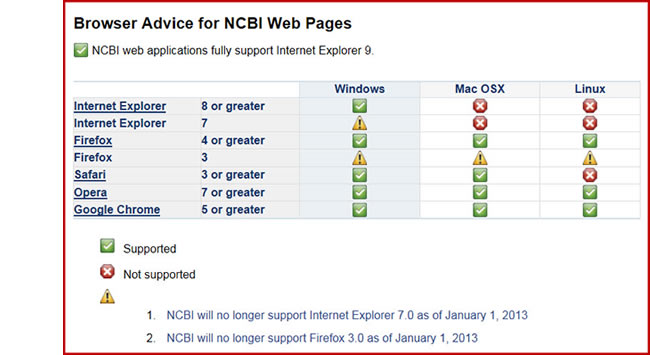 This link to the Browser Advice for NCBI Web Pages includes information on enabling cookies and Javascript, and resolving page expired error messages in PubMed.
DOCLINE will continue to support Internet Explorer 7 for the foreseeable future. This article was inspired by a problem that some network members reported where lists of databases were appearing along with a set of PubMed search results.
ABOUT Marco Tamase
Marco Tamase is the Member Services Coordinator for the Pacific Southwest Region of the National Network of Libraries of Medicine located at UCLA.
Email author View all posts by Marco Tamase