Congratulations to Stephen Hase Kiyoi, new NLM Associate Fellow!
Posted by Julie Kwan Posted in: General

---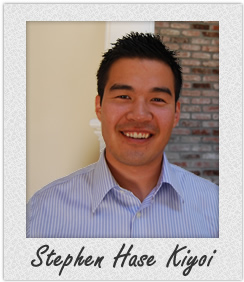 Stephen Hase Kiyoi, a June 2010 graduate of the UCLA Department of Information Studies, joins the ranks of National Library of Medicine (NLM) 2010-2011 Associate Fellows. The program is designed to prepare librarians for leadership roles in health sciences libraries and research. During their year at NLM, Associate Fellows are introduced to a range of technologies and skills through in-class learning modules taught by NLM staff, and they then put that knowledge into practice through short term projects at NLM. Learn more about NLM's Associate Fellowship Program and the other 2010-2011 Associate Fellows on the Associate Fellowship Program web site.
During his time at UCLA, Stephen worked as a Public Service Assistant at UCLA's Louise M. Darling Biomedical Library, where he provided reference services to researchers, students, and the general public. Stephen also contributed regularly to the library's blog, and collaborated with librarian Amy Chatfield to create UCLA's Genetics and Genomics LibGuide. Stephen created two video tutorials, the first on how to use PubMed's Single Citation Feature, and the second on how to batch download citations from PubMed to EndNote.
Stephen also worked as a Graduate Student Assistant for Christine Borgman, Professor and Presidential Chair in Information Studies at UCLA. In that capacity, Stephen cataloged Christine's research and writings, edited and maintained her professional website, and helped prepare class syllabi and webpages.
While in school, Stephen also completed an internship at the University of Southern California's Norris Medical Library. While at Norris, Stephen conducted a preliminary literature review to determine the need for handheld devices in medical libraries and medical education, and worked with libraries to research and create a suite of LibGuides.
He graduated with a degree in English Literature from California Polytechnic University, San Luis Obispo (Cal Poly). While at Cal Poly, Stephen was active with his church, and volunteered as a mentor through the Family Care Network's "Big Buddies" mentorship program. Stephen is a member of the Medical Library Association and the Medical Library Group of Southern California and Arizona (MLGSCA). He was the recipient of the MLGSCA student scholarship for 2010.
ABOUT Julie Kwan
Email author View all posts by Julie Kwan