Announcing a Consumer Health Professional Development Resource — Finding Health and Wellness @ the Library: A Consumer Health Toolkit for Library Staff
Posted by Kelli Ham on September 30th, 2010 Posted in: Consumer Health

---
We are pleased to announce the publication of the Consumer Health Toolkit, the result of a multi-year collaboration between the California State Library and NN/LM PSR. The Toolkit is a comprehensive professional development resource for librarians and library staff to build their competencies in providing excellent consumer health services to users.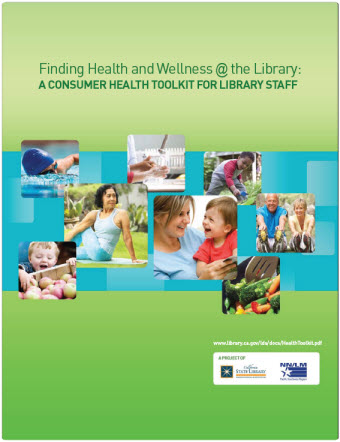 This project has been a long time in the making. It began with a simple question:
"What could the California State Library do to help local public libraries improve their capacity to provide reliable health information for their users?"
The State Library created a large-scale survey to find the answer. To get a full understanding of the issues and possible solutions, the survey was sent to library staff and library users.
A separate survey was sent to health professionals, to find out their perceptions of libraries as providers of health information to their patients, and what they feel is the appropriate role for libraries. The project concept was formed by the results of the surveys. The results of the survey identified a number of areas for training, skill building and knowledge. The findings and recommendations are summarized here:
Develop standards for core health materials
Locating and having knowledge of quality resources
Improving information service infrastructure
Design, provide, facilitate training
Sharing information, peer-to-peer, networking (e.g. "partnerships")
Taking the recommendations and survey findings into consideration, the idea for a toolkit was formed.
The toolkit would be a professional development tool that would start with a defined list of competencies specific to consumer health information services.
It would be designed as a dynamic tool that could evolve and grow over time.
The target audience would be all library staff (not just librarians)
Sections would be based on learning objectives
The Toolkit would promote the concept of libraries as models of healthy places which would positively impact the health of the entire community
Resources in the Toolkit would support the efforts to build the skills and knowledge as identified in the core competencies.
These ideas were compiled into a proposal which resulted in an LSTA grant, with support from the National Library of Medicine contract that funds the contributions from NN/LM PSR.
Design and Development Process
When we first started discussing the project, we considered various ways of providing information. A web site seemed the obvious format, but this was not a viable option for the State Library due to lack of funds for sustaining a web site over time. A stand-alone print document would become outdated quickly, so this idea was discarded also. We decided that the best compromise would be an interactive PDF document that would include live links to websites, with easy navigation elements built into the document. Such a resource could be accessed via the web, downloaded to a computer, or printed and used as a desk reference tool. The document was intended to be a living, working document that would grow and improve over time, based on feedback and suggestions from users in the field.
One driving concept was the recognition that preventive measures have a huge impact on the overall health of community populations. Many health information resources already exist for information about diseases, diagnosis, and treatments. The author and contributors to the Toolkit made a concerted effort not to replicate MedlinePlus and other noteworthy sites, but instead made selections with a focus on healthy living, wellness and prevention of disease.
To ensure that the project resulted in a quality resource, an advisory committee was formed to provide guidance on design, structure, content, and overall recommendations. The committee included a number of public librarians, consumer health librarians in hospital settings, patient educators, and health professionals. Each committee member brought relevant expertise and a unique perspective to the process, and the collective wisdom helped to craft a resource that will be valuable to many librarians.
Over a period of many months, a knowledgeable team of librarians and subject specialists worked to identify authoritative resources, write annotations, and review the content. A library school student with an interest in consumer health provided fresh ideas and great support for the project. A design team created the document template and transformed page upon page of text into a visually appealing, user-friendly document. An eagle-eyed editor then performed a final document review, resulting in consistent style and quality throughout the document. The entire team was invaluable every step of the way.
The Toolkit
The Toolkit is divided into six sections. Depending on the library staff person's position or role, some sections may hold more appeal than others. The final document is 93 pages in length; we are certain that there is something for everyone in this resource.
Core Competencies
The first section, Core Competencies, identifies a set of competencies required to provide quality health information services to the public. The list of eight competencies was written specifically for this Toolkit. This section can be thought of as the foundation, and next four sections provide the necessary skills and knowledge for building solid competencies in consumer health. Library staff will be able to use the list to reflect on their own skills in a particular area. Each of the competencies is supported by materials in the Toolkit.
Health Resources
The Health Resources section is a collection of health information on a variety of topics, all with a focus on healthy living. We know that many health problems can be prevented or minimized if people adopt healthy behaviors, such as eating well, doing physical activities, and taking advantage of preventive health care. People need good information in order to make healthy changes in their daily routines. This section includes carefully selected resources with a focus on prevention of disease and healthy living. While prevention is at the top of the list, resources are also included for coping and living well with chronic conditions.
Early in the planning stage, a decision was made not to include general health information on diagnosis and treatment of diseases and conditions. Other excellent resources such as MedlinePlus.gov already serve this purpose better than we ever could, so this section is intended to be an adjunct to other authoritative resources. Many more quality resources were identified than there was room for in the document. The chosen resources are representative of the best resources available and can be used as examples of quality health information.
Consumer Health Information Services
The Consumer Health Information Services section provides a wealth of resources. This section includes community needs assessments, health reference services, collection development, marketing services, and creating targeted health-related programming for users. Perhaps one of the most useful parts of the entire Toolkit will be the recommended core reference and print series section. Again, the list is not comprehensive, but these titles were carefully chosen by subject specialist librarians as recommended titles for a consumer health collection.
Technology and Health 2.0
The Technology and Health 2.0 section covers the convergence of technology and health information. People are using the Internet not only to find health and medical information, but they are also sharing information with others. Librarians may be uncomfortable recommending sites where the information is user-generated, but we need to accept the trend. People are using sites in this way, and there is evidence that it is useful for many. While some of the content on these online resources is contributed by patients and health consumers, the chosen sites adhere to strict privacy guidelines and other important criteria. This section provides information and links to resources that you can trust, along with tips on talking to your patrons about the pros and cons of utilizing information from social sites for health information.
This section also covers new technologies and formats for delivery of health information, such as audio, video, and content optimized for mobile devices. Numerous podcasts from authoritative sources are recommended. Resources and information in the section will help librarians understand and evaluate new mechanisms for health information sharing and delivery, so they can feel comfortable in recommending certain sites and content when appropriate.
Workplace Wellness
The Workplace Wellness section includes guidelines and helpful resources for setting up wellness strategies and programs in libraries, businesses and organizations. One goal of this work is to bring awareness of healthy behaviors, and to promote the concept of libraries as healthy places, thereby leading to healthy communities. It is our hope that library managers and staff will embrace the notion of wellness, not only in the workplace, but in our personal lives as well.
Resources for Health Care Professionals
The final section includes carefully selected resources for health professionals, including health literacy curricula, improving communication with patients, and resources to improve cultural competency. Additionally, the entire Toolkit is intended to bring awareness to health professionals that public libraries are reliable sources of health information for patients and consumers, due to training and knowledge of authoritative health resources. The original survey findings indicated that clinicians may not be aware of training librarians receive or be doubtful of the quality of the health information that is provided to users. Creating partnerships with health care professionals and health-related organizations can improve the health literacy and quality of life in the entire community. Health professionals will also benefit from exposure to quality health resources that are appropriate for their patients.
Using the Toolkit
The Toolkit is a large PDF document, just over 7MB in size. For best efficiency and usability, it is recommended that users download a copy of the document and access it from their computer hard drive using Adobe Reader rather than the web. While it can be used from the web site, each time a link is clicked, the document reloads into the browser window. It can be time-consuming if you have a slow connection or if you are looking at several links.
As previously mentioned, the Toolkit is designed to be interactive and easy-to-use. Several features were built in to help users navigate to selected parts of the document and to quickly identify resources in different formats or content type. An icon set was created to indicate if an item was a book, a DVD, or a website that included information in another language.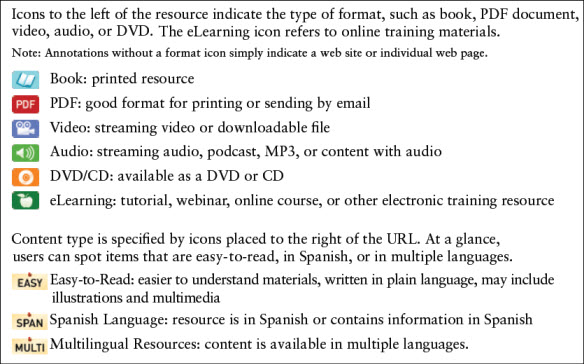 All web addresses are hyperlinked, and clicking on a link will take the user to the web page or site. Sections in the Table of Contents are linked to the appropriate page where the section begins. Another common feature is the use of small Helpful Tip boxes. These text boxes include bits of information relevant to the section, as a way to provide added value throughout the Toolkit.
Many of the resources in the Toolkit come from organizations that use acronyms. To avoid repetitive listings of full organization names, the full name of an organization is listed along with its associated acronym in parenthesis the first time it appears in each section. In most cases, subsequent annotations from the same agency would refer to the organization by its acronym. To help users identify unfamiliar acronyms in the Toolkit, an entire list is included in the Appendix.
Future Plans
The Toolkit document will need to be updated regularly. Currently, we plan to update the document at least every six months, based on feedback and suggestions from users in the field. We are very interested in ways we can improve the Toolkit, and to know what is most useful. We have set up a feedback email account to collect comments at healthtoolkit@gmail.com. Additionally, we have created a Twitter account which will be used to announce new resources on a regular basis and to provide updates; follow us at www.twitter.com/healthtoolkit for all the latest about the Toolkit!
Any new training opportunities that become available will be announced via Twitter and included in future versions of the Toolkit. At the Regional Medical Library, we will continue to develop training materials for consumer health. Specific plans include an Infopeople webinar on the new MedlinePlus later this fall. Also in partnership with Infopeople, watch for a four-week online class which will dovetail with the competencies in the Toolkit. This will be a comprehensive class covering all aspects of providing health information to members of the public.
After librarians and staff have had a chance to use the Toolkit for several months, a formal evaluation will be conducted by the California State Library. The evaluation is planned for February 2011, so watch your email inboxes for an invitation to participate.
Finding Health and Wellness @ the Library: A Consumer Health Toolkit for Library Staff www.library.ca.gov/lds/docs/HealthToolkit.pdf
For questions about the Toolkit, contact Kelli Ham, Consumer Health Librarian, kkham@library.ucla.edu
ABOUT Kelli Ham
Kelli Ham is the Consumer Health Librarian at the National Network of Libraries of Medicine in the Pacific Southwest Region, based at the UCLA Biomedical Library. When she's not extolling the virtues of MedlinePlus, Kelli can be found hiking local trails or working in her organic garden and native landscape.
Email author View all posts by Kelli Ham