Express Outreach Award Highlights: Improving Response Capabilities of Northern Nevada Emergency Management Specialists through Critical Information Access
Posted by Alan Carr on June 30th, 2016 Posted in: Emergency Preparedness and Response, Funding, NLM Products, Outreach, Public Health

---
by Terry Henner
Head of Outreach Services
Savitt Medical Library
University of Nevada School of Medicine
Reno, NV
High on a hilltop far removed from possible floodwaters and equipped with its own electrical generators, redundant communications systems, and network servers stands the Washoe County Regional Emergency Operations Center (REOC). The REOC is the command center that manages responses to major disasters and emergencies in Washoe County of northern Nevada. Given the potential in the area for floods, earthquakes, wildfires, and exposure to hazardous materials, it serves a vital function in managing disasters of all kinds and ensuring that first responders have the necessary tools and information they need to successfully mitigate loss. Over 50 different agencies are involved at the REOC, ranging from the school district, Regional Transportation Commission, Red Cross, Salvation Army, Fire Department, Police Department, utility companies, hospitals, district health departments, ambulance companies and more. In 2015 the Savitt Medical Library of the University of Nevada, Reno, School of Medicine was supported by the NN/LM PSR through an Express Outreach Award to improve the capacity of first responders in determining situational status, coordinating response strategies and activities, and in making critical decisions during emergency and disaster situations.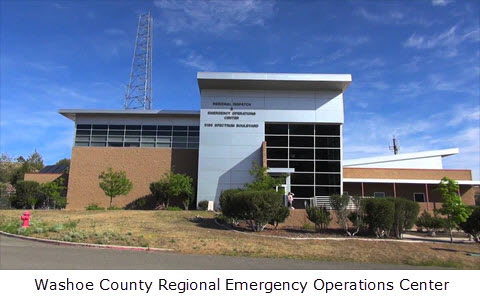 Our collaboration with the REOC had two main aims. The first and of highest priority among our target groups was to build a web-enabled directory of regional subject matter experts (SMEs) so that first responders could rapidly locate professionals with the particular expertise needed in a given situation. These subject matter experts, who were identified and added to the database as part of our development process, have expertise in a wide range of subjects spanning airplane crashes, GPS systems, floodwater control, wild fire logistical planning, emergency evacuation, electrical blackouts, hazardous materials, and other disciplines that might come into play in an emergency. The directory lives as a dynamically updated database behind a firewalled authentication system to preserve the confidentiality of the SMEs and to ensure that access is only available to vetted members of the first responder community. The directory is searchable by name, organization, controlled term subject expertise, and text word.
The second project goal was to select, validate, and organize first response and disaster medicine resources in a centralized clearinghouse that would be responsive to specific needs of the region's first response community. To achieve this we undertook a mixed methods needs assessment including surveys, focus groups, meetings with key informants, and inspection of internal departmental documents and resource collections. This process garnered valuable feedback from heads of county public health and environmental agencies, emergency management planners, police chiefs, and over 80 Washoe County Fire Department captains. The clearinghouse points to key resources developed by NLM, such as WISER, as well as an array of resources maintained by the CDC and other public and private agencies. We intend to maintain and enhance the clearinghouse following the conclusion of the formal project phase and solicit ongoing feedback to improve the user experience. Based on our interactions to date, there is clearly benefit in promoting information tools to the first response community, as we saw notable deficits in their awareness of available information resources. First responders as a group were most keen to learn more about and integrate mobile compliant tools into their information seeking practices. Finally, though this has been a productive experience, working with first responders is not easy. Once a crisis emerges, as happened many times, everything—including this project—gets pushed back until order is restored!
ABOUT Alan Carr
Alan Carr is the Associate Director, National Network of Libraries of Medicine, Pacific Southwest Region, based at UCLA.
Email author View all posts by Alan Carr