Express Outreach Award Highlights: Big Bang Health Information Literacy, Outreach to Diverse Populations for Future Success
Posted by Alan Carr on April 30th, 2014 Posted in: Affordable Care Act, Consumer Health, Funding, MedlinePlus, NLM Products, Outreach, PubMed, Technology, Training

---
by Naomi C. Broering, MLIS, MA, FMLA
Dean of Libraries
Pacific College of Oriental Medicine
San Diego, CA
The title, Big Bang Health Information Literacy: Outreach to Diverse Populations for Future Success, stems from the cosmological model that the universe began at a single point and is expanding. As we contemplated the evolutionary process of health information literacy, an obvious observation is that the role of the medical library is continually expanding, evolving, and has become increasingly more universally diverse. It is actually fun to contemplate how what we know and do today will grow and change as new resources, technologies, and communities evolve. Even knowledge and demand for information grows and expands! However, high tech and advanced medical research achievements are not yet universally accessible to minority communities and special populations, especially in the remote neighborhoods within San Diego County. The need to know how to access free health information and stay healthy has become more critical, as the economic downturn, increased health care costs, diminished income, and the Affordable Care Act (ACA) impact the health and well-being of nearly everyone.
In order to keep pace with changing needs and the world of information, the Pacific College of Oriental Medicine (PCOM) developed the Big Bang Health Information Literacy outreach project to provide the latest health information to San Diego's diverse populations on numerous health topics selected by project partners and participants. Outreach funding from the NN/LM PSR enabled us to launch a collaborative health information training program with six major San Diego institutions, including public libraries, churches, community centers, and clinics based in ethnically- and culturally-diverse communities. Training was conducted directly at target areas, including branches of San Diego Public Library, San Diego County Library, Chula Vista Library, African Methodist Episcopal (AME) churches, La Jolla Community Center, and the PCOM Clinic with its affiliated clinics. The target population was San Diego's multicultural, diverse, and minority population and their community health care providers. It was instantly a popular program, and quickly exceeded the original goal of six workshops and 250 to 500 participants. Demand grew as word spread throughout the communities.
The project goals were to improve information access to NLM's resources on high demand health topics through training workshops, and to introduce these resources to a large, diverse San Diego population with the collaborating partners. We had the following four project objectives:
Develop customized training programs on subjects pertinent to community morbidity; mortality; health concerns such as diabetes, coronary heart disease, cancer, HIV/AIDS, obesity; disasters and emergencies; and ACA information. PCOM's library staff developed instructional programs, manuals, and handouts for attendees.
Implement and publicize training programs in collaboration with project partners and to schedule convenient dates and sites to attract community residents and health providers.
Provide training directly at collaborating San Diego public libraries, health clinics, local churches, community centers, and schools. Distribute evaluation questionnaires to gather data for outcomes analysis.
Conduct the workshops in English and Spanish and demonstrate the multiple language components of MedlinePlus and PubMed to meet attendee needs.
Even with years of experience conducting health information literacy programs, it is still very important to organize, plan, acquire resources, communicate, and determine project implementation steps. Success factors for implementing the outreach training workshops included a logical phased approach with multiple tasks and a timetable to develop, design, and conduct the training workshops in the community. The multiple phases included: Organizing the project team and partners; updating the Library's webpage with NLM's latest releases; improving access to e-resources; designing customized training and materials; publicizing workshops at multiple sites; conducting the instructional programs; and evaluating outcomes. The associated numerous tasks required staff planning and attention to details to assure that manuals, handouts, equipment, network updates, and facilities were ready and prepared. This attention to detail is important because it provides confidence and allows flexibility if on-site changes or adjustments are needed.
Faced with an immense unmet community need, we used the San Diego County population reports to identify high priority target areas of large racially and ethnically diverse populations to conduct the health information workshops. The extraordinarily large Hispanic/Latino, Black/African American, Asian, Pacific Islander, Filipino, Native American, refugee, and homeless communities represent major challenges to health care providers. To be responsive to community needs, the NLM multiple language resources, such as MedlinePlus' Health Information in Multiple Languages, were used for groups needing instruction in their native tongue. Since attendees learn in various ways, we used multiple sources and instructional methods. For example, medical students and practitioners often search during classes and prefer interactive training, whereas practitioners benefited by improving their patient communication skills and learning how to access patient educational materials. Questionnaires and Q&A discussions at each workshop provided useful insights on user needs. Results indicated that few attendees had prior knowledge of MedlinePlus, PubMed, and other NLM resources, were unaware of numerous clinical trials conducted in San Diego, and approximately 60% prefer multiple language access. Physicians and youths use mobile or iPad access, while seniors prefer desktop or laptop computers. Publicity flyers and posters developed for each workshop successfully attracted attendees. Partners posted publicity on bulletin boards, websites, and local newsletters. The training sessions consisted of 45 minutes on NLM databases, followed by demonstrations of mobile apps on iPads and smartphones, and hands-on downloading assistance. Attendees were observed loading MedlinePlus on their laptops or iPads.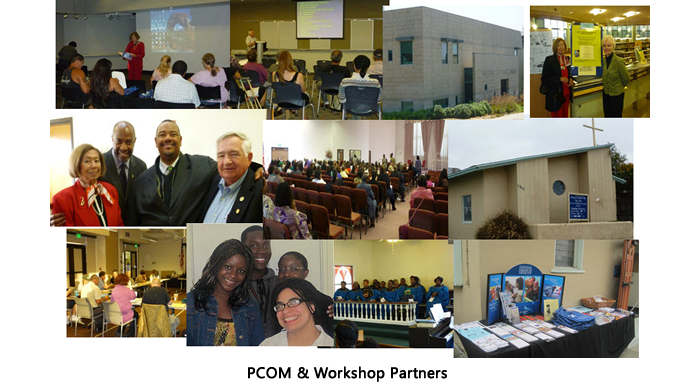 Signup sheets, interviews and workshop observations, discussions, plus questionnaires were used for evaluation analysis, suggestions, and program modifications. Lessons learned and input from project partners focus meetings provided valuable input, project outcomes and results data. Analysis and results of the questionnaires indicate the following: 75 to 80% use the Internet for medical and health information; none of the consumers had previously used MedlinePlus or NLM databases, 70% of the medical professionals had used MedlinePlus and 90% had used PubMed, but were not proficient searchers. All (100%) stated that the presentation was useful; and 100% stated they would use NLM links and databases in the future. All (100%) stated they would tell others about the information they received. They were appreciative of the multiple language topics and enthusiastically offered to inform their family members and friends, who have limited English skills about the language features. The clinicians stated they would use the various languages for their patients as needed. Many took extra handouts for their friends and families. The Spanish translated NLM trifold brochures were especially popular. During the Q&A throughout the workshops, attendees were quite excited about the medical information available on MedlinePlus, and how to look up and enroll in clinical trials. Outcomes included twenty successful workshops for 815 attendees, more than half being ethnically diverse people, and an exhibit at the annual Pacific Symposium that reached over 350 participants.
A major significance is that the program raised the community's awareness of available free, reliable health information to improve their well-being; it encouraged them to find information for self-help; and to live better lives. The project methodology involving a team effort and collaborative arrangements offered superb outreach opportunities to provide training of NLM's resources at partner sites, and thereby made a profound impact on racially and culturally diverse San Diego residents, and practitioners that serve them. Benefits of the PCOM Library's web page resources, staff expertise and free instructional materials customized for attendees, provided additional value and participant satisfaction. There were useful lessons learned. As attested by the increased requests for workshops and expanded partners during the project, PCOM gained new insights about the real need for these programs. We learned that attendees are eager to adapt new technologies and were excited when shown the iPad and app demonstrations. The project made a difference, in that participants were grateful to learn about MedlinePlus, and the information available from the NLM databases and resources could help them lead healthier lives. Evidence of PCOM's significant impact is that we had increased workshop requests and expanded the project by adding workshops, partners and attendees. Success stories included participants' enthusiasm for loading the MedlinePlus web site and Apps on their laptops and iPads during the sessions. The smiles and warm "Gracias" from the Latino participants, who could now look up health information in their native language, were gratifying, and made it worthwhile to drive to remote San Diego County areas to spread the word. A paper highlighting project achievements will be presented at the 2014 MLA meeting in Chicago.
ABOUT Alan Carr
Alan Carr is the Associate Director, National Network of Libraries of Medicine, Pacific Southwest Region, based at UCLA.
Email author View all posts by Alan Carr