Express Outreach Award Highlights: Building an Environmental Health Information Program, A Collaboration Between Charles R. Drew University (CDU) Pipeline and the CDU Health Sciences Library
Posted by Alan Carr on June 29th, 2016 Posted in: Consumer Health, Funding, K-12 Resources, MedlinePlus, NLM Products, Outreach

---
by Joshua Shulman, MSIS, Emerging Technology Librarian; Zebib Yemane, B.S., Library Aide; and Darlene Parker-Kelly, MSLS, Director
Charles R. Drew University of Medicine and Science
Health Sciences Library
Los Angeles, CA
The Charles R. Drew University Health Sciences Library received NN/LM PSR Express Outreach Award funding in 2015-16 to conduct a project promoting the value and awareness of National Library of Medicine health information resources focusing on environmental health. The University has a robust Pipeline program and the project was implemented in collaboration with community partners. The foremost objective was to introduce selected National Library of Medicine resources to students (K-12 and college), teachers (K-12 and college), parents and community members. A planning committee was established, composed of staff persons from the CDU Pipeline program, faculty from the Masters of Public Health program, a CDU researcher, librarians/library staff and the Library Director. Several events were planned which included contacting external members of the community, including the Principal at Compton Early College Program, the coordinator of the King/Drew Magnet High School College Bound Program, and Congresswomen Janice Hahn's office. While the initial program was designed primarily for K-12 students and Pipeline students, the external partners recommended additional outreach activities to introduce and promote the use of National Library of Medicine resources at external events.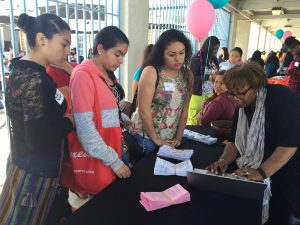 By the completion of the project seven outreach events were conducted. They were the 5th Annual Saturday Science Academy Walk/Run, lecture by Dr. Theodore Friedman, exhibits at Diabetes Day and Alzheimer Community Event, Masters of Public Health Presentation, Compton Early High School Health Fair and King/Drew Magnet High School Program. In addition, over 500 participants were engaged in learning more about highlighted NLM resources, including MedlinePlus (English and Spanish), Household Products Database, Tox Town, National Center for Complementary and Integrative Health (formerly NCCAM), and several TOXNET resources, such as TOXLINE, HSDB, and TOXMAP. The demonstrations were tailored to the audiences and when applicable included hands-on practice. Following are highlights from two outreach activities: Diabetes Day and King/Drew Magnet High School College Bound Program, as reported by Joshua Shulman, Emerging Technology Librarian, and Zebib Yemane, Library Aide.
Diabetes Day – Monday, November 23, 2015
The Los Angeles County Department of Health Services (DHS) hosted its Second Annual Diabetes Day workshop on November 23, 2015, at the California Endowment Conference Center in downtown Los Angeles. The proceedings were a joint presentation of the DHS Endocrinology Specialty Care Workgroup, Medicine and Science, and the University of California Los Angeles, Clinical and Translational Science Institute. The CDU Health Sciences Library team set up an information booth outside the main conference room and engaged health provider attendees in conversation regarding consumer health resources. Many providers indicated that they distributed resources such as brochures to their patients. We advocated that providers promote MedlinePlus to patients as an excellent source of accurate consumer health information. Many providers responded positively to the online demonstrations and the variety of languages in which MedlinePlus resources are available. The simplicity of the site's design and ease of navigation were also regarded by the providers as valuable features. Many providers indicated that they would encourage patients to use MedlinePlus.
College Bound Luncheon – Thursday, April 26, 2016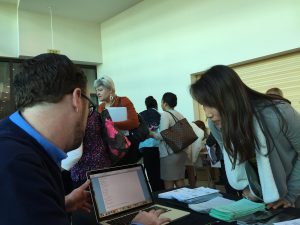 Representatives of Charles R. Drew University's Health Sciences Library delivered a presentation entitled Library Resources and Research Strategies to a group of King Drew Magnet High School of Medicine and Science students. The Emerging Technology Librarian and Library Assistant presented to a College Bound afterschool class session attended by approximately twenty students who regularly attend the college pathway support program. The CDU Health Sciences Library team delivered a program that focused on the benefits and disadvantages associated with researching in traditional libraries as opposed to an online environment. Concepts such as information accuracy and reliability were introduced. The CDU Health Sciences Library staff used the presentation as an opportunity to promote MedlinePlus as an excellent resource for discovering reliable and accurate health information. Students were provided MedlinePlus brochures and encouraged to visit MedlinePlus when seeking medical and health-related information.
Students responded to the program with interest and enthusiasm, as evidenced by their comments during the presentation and the question-and-answer period that followed. During a demonstration of the various differences between MedlinePlus and a commercial website, when asked to identify important differences, one student immediately commented on the proliferation of advertisements on the commercial site. MedlinePlus was compared and contrasted to various commercial health and wellness websites in order to emphasize the differences between quality health information and targeted marketing. Ms. Yemane, a recent college graduate, encouraged students to visit the CDU Health Sciences Library and several attendees indicated they have already visited and used the Library. In addition, Ms. Yemane tabulates library statistics and noted that 24% of library users are community members.
At CDU Health Sciences Library, we consider the outreach activities a golden opportunity to promote National Library of Medicine resources and to support the vision statement of the University, "excellent health and wellness for all in a world without health disparities." Lastly, the Library has created a LibGuide on Environmental Health, which is currently under review.
ABOUT Alan Carr
Alan Carr is the Associate Director, National Network of Libraries of Medicine, Pacific Southwest Region, based at UCLA.
Email author View all posts by Alan Carr