Express Outreach Award Highlights: Charles R. Drew University Health Sciences Library as a Partner with Faith-Based Organizations
Posted by Alan Carr on August 15th, 2014 Posted in: Affordable Care Act, Consumer Health, Funding, NLM Products, Outreach, Public Health

---
by Darlene Parker-Kelly, Library Director
Charles R. Drew University of Medicine and Science, Health Sciences Library
Los Angeles, CA
Since 2010, the Charles R. Drew University (CDU) Health Sciences Library has been involved in NN/LM PSR Health Information Literary Outreach activities. The outreach project outlined below took place at Bethany Baptist Church of West Los Angeles and we welcomed partnership from many neighboring churches, including Pleasant Hill Baptist Church, Mt. Moriah Baptist Church, and Southern Missionary Baptist Church. The churches are all located in South Los Angeles and many of the churches have begun health initiatives to help parishioners understand health conditions that plague African American communities.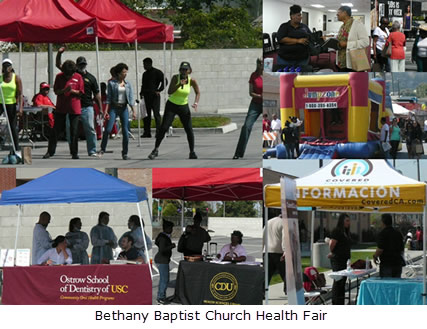 The idea of the project was envisioned by Darlene Parker-Kelly, Library Director, and Delois Flowers, the Outreach Librarian, however; it also required the assistance of a community/church liaison from the lead church, Bethany Baptist Church. In addition, we received support for the programs through volunteers from Bethany Baptist Church. The goal of the outreach initiative was to introduce and promote the use of consumer health information from the National Library of Medicine (NLM). Additionally, the goal was to increase the awareness of NLM's consumer health resources, such as MedlinePlus, NIHSeniorHealth, Genetics Home Reference, Household Product Database, AIDSinfo, National Center for Complementary and Alternative Medicine, and TOXMAP.
A collaboration was formed with the liaison from Bethany Baptist Church, church volunteers, a community physician, the CDU Outreach Librarian, and Library Director. As a result of these sessions, three activities were planned and implemented, including an Affordable Care Act Workshop, the Bethany Baptist Church Health Fair, and presentation to the students, instructors and staff at the Bethany Bible College. There were numerous organizations that partnered with the CDU Health Sciences Library to implement the project, especially the health fair. Some of the leading organizations were the JWCH (John Wesley Community Health Institute) for Covered California (ACA), the Victorian Care Medical Group, and the Los Angeles City Council District #10 Office.
The project's major accomplishments were bringing an awareness of NLM resources health to the community, providing health screenings, access to vital information for the ACA, and collaboration among churches and community residents. As a result of these events, CDU Health Sciences Library has agreed to partner with Bethany Baptist Church in providing information on NLM's consumer resources at future health fairs.
ABOUT Alan Carr
Alan Carr is the Associate Director, National Network of Libraries of Medicine, Pacific Southwest Region, based at UCLA.
Email author View all posts by Alan Carr