Express Outreach Award Highlights: Public Access to the Coachella Valley 2013 Community Health Monitor Results
Posted by Alan Carr on May 28th, 2014 Posted in: Funding, Outreach, Public Health

---
by Eileen Packer, RD, CAE
Chief Executive Officer
Health Assessment Resource Center (HARC, Inc.)
Palm Desert, CA
In January 2006, the California Wellness Foundation, the Desert Healthcare District Foundation, and the Regional Access Project Foundation convened on behalf of a health data collection system for the Coachella Valley, located in Southern California's eastern Riverside County. In September 2006, Health Assessment Resource Center (HARC) was incorporated, and by February 2007, became an independent 501(c)3 nonprofit organization. In alignment with our mission, the triennial community health assessment is the centerpiece of our core competencies. HARC was the recipient of a 2013 NN/LM PSR Express Outreach Award of $9,000 to announce and distribute the 2013 community health monitor survey results during a public forum of community leaders.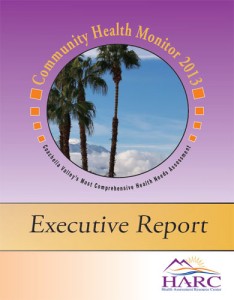 Our survey design and implementation reflect a community driven process that is led by a 34-member steering community made up of partners from local community clinics, hospitals, school districts, government agencies, and private sector interest groups. Results of the assessment provide local health organizations with reliable, objective, relevant, and useful health information about Coachella Valley residents. This information serves as a crucial tool to assist service agencies in making informed and realistic decisions about health program planning, development, and goal setting. Our survey and data-based consulting service assists organizations with the design, development, and implementation of specialized community assessments, so they can reach underserved and hard-to-reach populations. In addition, HARC conducts educational sessions and provides technical assistance to give organizations practical tools on how to understand and utilize health-related information in order to improve their services and strengthen their organizational capacities.
HARC's data has been utilized by a wide variety of local organizations to make a case for grant funding, develop targeted programs, and prioritize health needs in the community. In fact, local organizations that cited HARC's data in their funding requests have received over $7 million to fund local programs in the Coachella Valley. These numbers continue to grow and provide crucial support for programs that serve the needs of our community.
On February 13, 2014, the results of the 2013 data assessment were released on the Palm Desert campus of California State University, to approximately 250 attendees representing local government, community based organization leaders, health departments, and students pursuing healthcare careers. Dr. Glen Grayman, President of HARC, presented the significant changes that occurred between the three data measurement years of 2007, 2010 and 2013. These trend data will again be utilized to generate needed funds for local programs and services to address unmet health needs. The event was captured by videotape and photos that are posted to the HARC website for those who were unable to attend. HARC distributed brochures at the forum that describe health information resources such as PHPartners, MedlinePlus, and PubMed/MEDLINE, to help achieve the National Network of Libraries of Medicine's outreach program goal to improve awareness of, and access to, health information resources for health professionals and members of the public.
On April 30th, HARC activated the link on its web site that leads users to the new HARCSearch data feature. The online database enables users to customize their data queries so they may quickly find the specific demographic and healthcare information they require. HARC will announce two free HARCSearch training sessions that will be offered to interested community organizations, including nonprofits, public healthcare organizations, and policymaking agencies.
ABOUT Alan Carr
Alan Carr is the Associate Director, National Network of Libraries of Medicine, Pacific Southwest Region, based at UCLA.
Email author View all posts by Alan Carr