Farewell to Lori Tagawa
Posted by Alan Carr on March 16th, 2016 Posted in: General, MedlinePlus, Outreach, Public Health

---
NN/LM PSR Community Outreach Coordinator Lori Tagawa has accepted a new position in the UCLA Office of Academic Services beginning April 4. Her last day in the RML will be Friday, April 1. Lori has been an employee of the UCLA Louise M. Biomedical Library for a total of 7.5 years, the last five as NN/LM PSR Community Outreach Coordinator. Lori has been a great asset to the RML, and she will be deeply missed. The good news is that she is not going far away, just to the other end of the UCLA campus!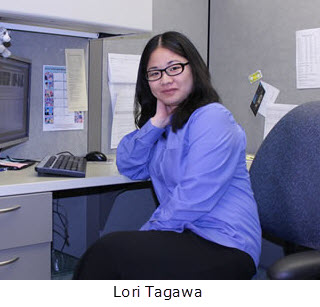 As Community Outreach Coordinator, Lori identified underserved areas in the region and developed outreach plans including materials, training, demonstrations, follow-up, and evaluation. Specifically, she presented papers; taught at classes, meetings, and workshops; and conducted regional training on PubMed, MedlinePlus, and other NLM and NN/LM products and services. Lori's special success stories included collaborating with the Chinese Community Health Resource Center in San Francisco to add over 200 consumer health information documents in Simplified and Traditional Chinese to MedlinePlus, and presenting Beyond the Mainland: Serving Native Hawaiians and Pacific Islanders at the 2nd National Joint Conference of Librarians of Color, held in 2012 in Kansas City, MO.
Lori also had a very successful collaboration with the UCLA Southwest Regional Public Health Training Center, which targets the uninsured, isolated, or medically vulnerable populations, with the goal of improving their access to health care. She conducted the webinar Evidence-Based Public Health: Identifying and Using Information Resources, which reached over 200 public health professionals in California, Nevada, and Utah. Lori's other collaborations with public health professionals included assistance in collection development for the San Mateo Medical Center and South San Francisco Clinic Library; and providing PubMed and evidence-based public health training to employees of the California Department of Public Health and Los Angeles County Department of Public Health.
Additionally, as part of the NN/LM ClinicalTrials.gov National Outreach Initiative, Lori extensively contributed to the development of the online course ClinicalTrials.gov: Results Reporting, Unique Evidence, and the Role of Medical Librarians, which is now taught nationwide. Lori also very ably managed the NN/LM PSR Express Outreach Awards component of our program, which involved nearly $500,000 in funding during the 2011-2016 five-year contract period.
Lori will receive a letter and certificate from the National Library of Medicine commemorating her service to the RML and NN/LM. Congratulations to Lori; we wish her the best as she begins this new challenge and phase of her career!
ABOUT Alan Carr
Alan Carr is the Associate Director, National Network of Libraries of Medicine, Pacific Southwest Region, based at UCLA.
Email author View all posts by Alan Carr