Ginny Tanji, PSR Resource Library Director, elected to lead NLM's Board of Regents
Posted by Julie Kwan on June 28th, 2011 Posted in: General

---
Virginia "Ginny" Tanji, Librarian V, MSLS, MEd, Director of the Health Sciences Library at the University of Hawai'i at Mānoa's John A. Burns School of Medicine (JABSOM), has been elected to serve as Chair of the Board of Regents of the National Library of Medicine (NLM). Her appointment comes as NLM prepares to celebrate its 175th anniversary, which will include a special exhibit that focuses on native peoples, including Native Hawaiians.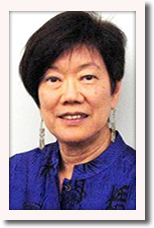 Tanji is one of only two health sciences librarians currently serving on the Board. Eight other Board members were appointed from leaders in the fields of medicine, dentistry, public health, hospital administration, pharmacology, bioinformatics, etc. There are also nine ex-officio Board members, including the Surgeon General and the Librarian of Congress.
The NLM Board of Regents meets three times a year to advise, consult with, and make recommendations to the Director of NLM on matters related to the Library. Policy matters may include the materials collected, the services provided, and the research conducted by the Library, including the research and development done at the National Center for Biotechnology Information (NCBI), which maintains PubMed MEDLINE, MedlinePlus.gov, ClinicalTrials.gov, the genome databases and many other resources used by scientists throughout the world on a daily basis.
The Board also reviews and makes recommendations about grant applications, bioinformatics training programs, and contracts funded by the Library, and advises the Library on the development of the National Network of Libraries of Medicine, of which the JABSOM Health Sciences Library is an active member, serving as Resource Library in Hawaii.
Tanji said preparation has been underway for some time for this fall's 175th anniversary celebration, which will include the opening of a special exhibit titled "Native Voices: Native Peoples' Concept of Illness," on October 5, 2011 at NLM in Bethesda, Maryland.
"Dr. Donald Lindberg, NLM Director and others, have made trips to Hawai'i specifically in preparation of the exhibit," said Tanji. "Interviews with JABSOM faculty and others will be included in the exhibit, along with a six-foot replica of the Hokule'a voyaging canoe."
Tanji also said a continuing focus at the National Library of Medicine is the development of MedlinePlus Connect, a free service of NLM and the NIH, which allows electronic health record (EHR) systems to easily link users to MedlinePlus, an authoritative, up-to-date health information resource for patients, families and health care providers.
Tanji has been a leader for health sciences libraries in Hawai'i and a valued colleague to the Regional Medical Library and other members of the NN/LM Pacific Southwest Region. We are all proud of her appointment and look forward to her leadership.
ABOUT Julie Kwan
Email author View all posts by Julie Kwan