Helping New Computer Users Search for Health Information Online: A Plain Language Toolkit for Trainers
Posted by Lynn Kysh on August 30th, 2012 Posted in: General, MedlinePlus, NLM Products

---
During my spring 2012 internship, I took on a variety of projects at NN/LM PSR. One of these projects included making modifications to the existing Helping Older Adults Search for Health Information Online: A Toolkit for Trainers to create a toolkit targeting adults, especially those with low literacy skills. Medical information is often dense, complex, and filled with jargon. Readers of all literacy levels benefit from straightforward, plain language and easy-to-read health information. But this course will be focused mostly on helping individuals with below basic and basic literacy levels seek out health information online. The ultimate goal of the course is to help individuals to locate accurate and authoritative health information which will lead them to make better decisions regarding their own health, resulting in changes in behavior and their whole well-being.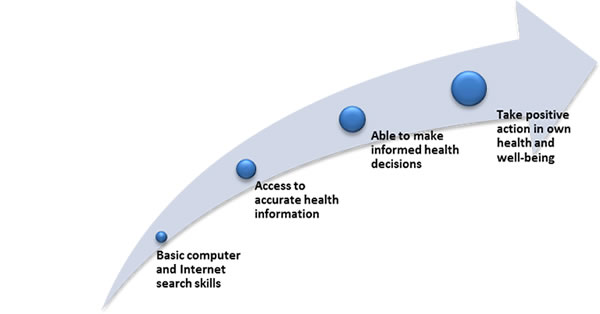 The end result will be an Internet training program to help adults with low literacy find answers to their health questions. Just like its predecessor, it will be a free, downloadable Toolkit for Trainers that accomplishes three valuable goals; teach computer skills to beginners, introduce adults to high quality, easy-to-understand online health information, and help them build Internet search and evaluation skills at the same time.
The toolkit will come with a set of teaching materials that will work with beginning and intermediate students of the web, including easy-to-read lesson plans, student handouts, web searching exercises, illustrated glossaries, and screen shots of web pages visited in class.
The original toolkit focused on resources for seniors, specifically the NIHSeniorHealth website. Modifications to the toolkit focused on providing information and health resources relevant for the general adult population, including MedlinePlus and others. Changes were also made to classroom activities and handouts that make the curriculum more accessible to low literacy students.
Below is the first page of a lesson review from Searching for Health Information Online: An Internet Course for Older Adults. In this module, participants learned how to look up drugs and supplements on MedlinePlus and navigate the site's medical encyclopedia.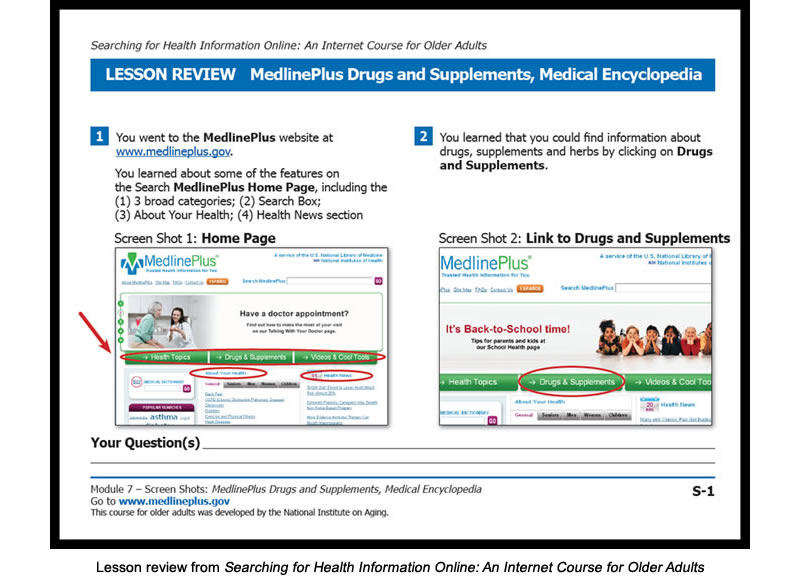 Source: http://nihseniorhealth.gov/toolkit/toolkit.html
Some components of the lesson review remained the same. The handout still relies on images and screen shots to review what was learned during the lesson. And space is reserved to allow students to take notes. Changes that were made to make it more accessible to low literacy audiences can be seen below. The lesson review now focuses on one core piece of information per page rather than two. This allows the reader's attention to focus on reviewing the information. It also results in more white space, which is less intimidating for readers. Choices were made to include serif and sans serif fonts appropriately, and sentences were shortened to 10-15 words per sentence.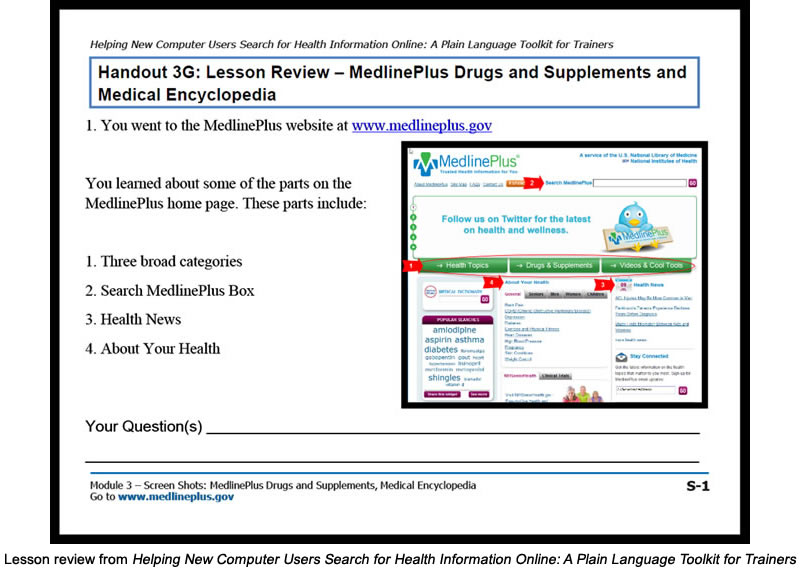 Now that the toolkit has been drafted, it will go through an editing phase that will include testing and feedback from community literacy experts. If you have any questions about the process or the future availability of the toolkit, please contact NN/LM PSR Consumer Health and Technology Coordinator, Kelli Ham.
ABOUT Lynn Kysh
Email author View all posts by Lynn Kysh