HHS Issues New Rule to Enhance Public Availability of Clinical Trial Information
Posted by Alan Carr on September 16th, 2016 Posted in: Consumer Health, NLM Products, Outreach, Public Health

---
In an effort to make information about clinical trials widely available to the public, the U.S. Department of Health and Human Services has just issued a final rule that specifies requirements for registering certain clinical trials and submitting summary results information to ClinicalTrials.gov. The new rule expands the legal requirements for submitting registration and results information for clinical trials involving U.S. Food and Drug Administration-regulated drug, biological and device products. At the same time, the National Institutes of Health has issued a complementary policy for registering and submitting summary results information to ClinicalTrials.gov for all NIH-funded trials, including those not subject to the final rule. A narrative summary and a summary table of the changes resulting from these new initiatives have been published by NIH.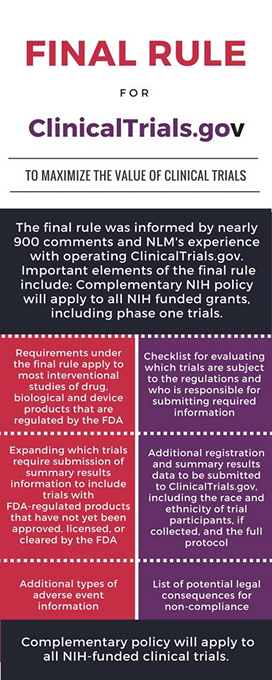 Expanding the registration information in ClinicalTrials.gov improves people's ability to find clinical trials in which they may be able to participate and access investigational therapies. More information about the scientific results of trials, whether positive or negative, may help inform healthcare providers and patients regarding medical decisions. Additional information will help researchers avoid unnecessary duplication of studies, focus on areas in need of study and improve study designs, ultimately advancing the development of clinical interventions. Requirements under the final rule apply to most interventional studies of drug, biological and device products that are regulated by the FDA. The requirements do not apply to phase 1 trials of drug and biological products, or small feasibility studies of device products. The final rule specifies how and when information collected in a clinical trial must be submitted to ClinicalTrials.gov. It does not dictate how clinical trials should be designed or conducted, or what data must be collected.
The NIH policy applies to all NIH-funded trials, including phase 1 clinical trials of FDA-regulated products and small feasibility device trials as well as products that are not regulated by the FDA, such as behavioral interventions. HHS values the public's participation in clinical trials and the knowledge gained by their participation; considers it an obligation to support the maximal use of this knowledge for the greatest benefit to human health; and strongly supports sharing of clinical trial summary data to allow the broader scientific research community to use and build upon clinical trial findings.
The final rule was informed by nearly 900 comments received during the public comment period on the Notice of Proposed Rulemaking and the National Library of Medicine's many years of experience with managing and operating ClinicalTrials.gov. Important elements of the final rule include:
Providing a checklist for evaluating which clinical trials are subject to the regulations and who is responsible for submitting required information;
Expanding the scope of trials for which summary results information must be submitted to include trials involving FDA-regulated products that have not yet been approved, licensed, or cleared by the FDA;
Requiring additional registration and summary results information data elements to be submitted to ClinicalTrials.gov, including the race and ethnicity of trial participants, if collected, and the full protocol;
Requiring additional types of adverse event information; and
Providing a list of potential legal consequences for non-compliance.
The Final Rule has a compliance date of 90 days after January 18, 2017. Failure to comply with the regulation may have legal consequences, which are described in the Final Rule. In addition, the NIH is required to make a responsible party's non-compliance public through a posting on the clinical trial record. If the applicable clinical trial is funded in whole or part by HHS, failure to submit all required registration and results information can jeopardize grant funding and future funding to the grantee. The FDA has the authority to issue a Notice of Noncompliance to a responsible party who has failed to comply with the requirements for registering and submitting results information for an applicable clinical trial. The FDA may also impose civil monetary penalties for such violations. Additionally, a responsible party who commits a prohibited act(s) may be the subject of an injunction action or criminal prosecution brought by the Department of Justice. Compliance with the NIH policy will be via the terms and conditions of the NIH award. Failure to comply with the terms and conditions of an NIH funding award could lead to grants enforcement actions, including termination of funding.
To learn more about these changes through additional resources or to see video of NIH Director Dr. Francis Collins explaining the benefits of the new rule, visit this NIH News Release. Also, a feature article about these new initiatives, Clinical Trials: Sharing of Data and Living Up to Our End of the Bargain, has been published on the NIH Director's Blog. In addition, registration is available for a series of three free webinars covering various aspects about the final rule on September 27, October 5, and October 11, from 10:00-11:00 AM PDT. The sessions will be archived for viewing after the event.
ABOUT Alan Carr
Alan Carr is the Associate Director, National Network of Libraries of Medicine, Pacific Southwest Region, based at UCLA.
Email author View all posts by Alan Carr