Highlights of Arizona Outreach in 2014/2015!
Posted by Alan Carr on May 28th, 2015 Posted in: Consumer Health, Funding, K-12 Resources, MedlinePlus, NLM Products, Outreach, Public Health, PubMed, Training

---
by Yamila El-Khayat, M.A.
Outreach Services Librarian
Arizona Health Sciences Library
University of Arizona
Tucson, AZ
This year our Outreach program in Arizona had quite a diverse set of programs reaching various populations within the state and beyond. This article provides a mini-overview of the many events accomplished.
We had the opportunity to exhibit at the Arizona Rural Health Association Conference, where we shared information about databases available to professionals working in rural areas to help them to find information for their practice. Some of the highlighted resources were MedlinePlus, PubMed and SIS resources, such as American Indian Health. New contacts were made at this conference, and attempts following up with them have been made to present to them and reach more professionals working in rural areas. We are looking forward to making more trips to the northern part of Arizona this coming year to offer a variety of programming.
Our K-12 programming involved working with high schools to teach students how to do research. We worked with twelve schools this year, reaching a total of 220 students. This program started a few years ago with only one high school, and has grown immensely, showing the need for programs like these. Students are taught how to use Boolean operators to narrow searches within both PubMed and Google Scholar. They are also shown how to approach a research paper by learning about the different parts of a paper (Abstract, Introduction, Methods, etc.). Teachers express their appreciation for programs like these and mention the importance and impact these programs have for their students, showing improved year end projects. Future sessions are exploring the possibility of incorporating citation managers to better prepare students when writing papers for science classes. Scheduling has already started for the 2015 fall semester.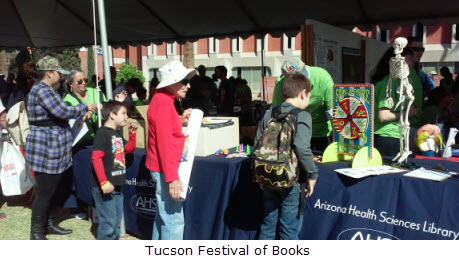 Healthy Pima, a coalition put together to address different health issues within the county, with Health Literacy being one of them, was selected to be a part of the National Leadership Academy for the Public's Health, a program funded through the CDC (Centers for Disease Control and Prevention). In addition to myself, the team is composed of a representative from the Pima County Health Department, the YMCA, and the College of Public Health. Together we will work on a project implementing programming within the county to address health insurance literacy, housing, food security and violence, while also developing leadership skills.
This year there was a re-launch of the informatics program with the Arizona Telemedicine program, reaching professionals in rural areas of the state. The first presentation covered NLM mobile resources, showing how these resources could be of use in their daily routines working with patients. The second presentation was an overview of PubMed, showing how to effectively utilize MeSH to have more precise results and utilizing My NCBI to store searches for later viewing. Both sessions were recorded and are fully available for later viewing.
Once more, we were invited to participate in the Tucson Festival of Books, this time participating two full days. Because of the larger time commitment, 18 other staff members from our libraries (Arizona Health Sciences Library and the University of Arizona Main Library) helped in staffing the booth. A total of 1060 "Skeletoni" kits were made with informational flyers highlighting NLM consumer health information resources. All of the kits were given away at the two-day event, which attracted both kids and adults to our booth. In all, this year our outreach events hit a number of communities, ranging from professionals in different fields to primary education students. We look forward to expanding our programs and seeing them grow in the years to come!
ABOUT Alan Carr
Alan Carr is the Associate Director, National Network of Libraries of Medicine, Pacific Southwest Region, based at UCLA.
Email author View all posts by Alan Carr