Highlights of Information Services Outreach for Rural and Frontier Nevada in 2013-2014!
Posted by Alan Carr on June 10th, 2014 Posted in: Funding, Outreach, Technology, Training

---
by Terry Henner
Librarian and Project Director
Savitt Medical Library
University of Nevada School of Medicine
Reno, NV
In general, rural and frontier areas possess important differences in demographics, economics, and social characteristics that influence health priorities and outcomes. Nevada communities situated in rural and frontier areas face unique challenges regarding the availability of hospitals, clinics, and associated health care resources, including access to health information services. The Savitt Medical Library received NN/LM PSR outreach funding for a second year to extend services to these rural and underserved areas through the activities of a Coordinator of Outreach Library Services (COLS). During the past year, this position has been playing an important role in helping to mitigate the geographic isolation of health care workers by raising awareness of information services and access to training opportunities.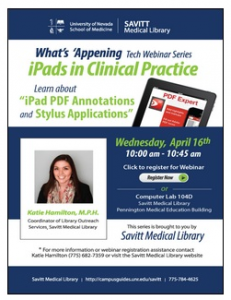 Our strategies this year focused on making better use of distance learning mechanisms to improve exposure to health information tools and resources and aid health care workers in using them with greater facility and success. Perhaps the greatest challenge in serving outreach populations is the task of identifying and communicating with one's target group. To that end, we were greatly aided by partnering with two agencies, a Nevada AHEC and the University of Nevada School of Medicine Office of Statewide Initiatives, that both have overlapping aims to improve healthcare quality in underserved areas.
Working with this group for a time reinforced our perception that caregivers in rural areas commonly have insufficient knowledge of valuable, freely available online health resources such as those maintained by NIH and CDC, and have not received training to make effective use of databases such as PubMed. It was equally evident that clinicians and support staff must contend with tightly packed schedules and typically lack flexibility to carve out time to attend instructional programs, regardless of their value. Therefore, when trying to engage with and present a program of instruction we felt it might be preferable to rely on asynchronous tutorials and recorded webcasts rather than live, interactive instruction. We began an instructional program employing a webinar software platform. The benefits were twofold. We could interact with and coach participants in real time, while also creating an enduring set of video materials to meet the needs of those who, due to scheduling considerations, were not able to attend the live webinar.
Our need at the outset was to develop an approach that could maximize engagement with a very disperse community. To attract and motivate an audience we opted initially to focus on topics that reflected a high degree of interest, such as how to use tablets and mobile devices in clinical care. Additionally, to give the presentations more relevance, we recruited local clinicians to serve as co-hosts and illustrate how they use mobile devices in their own patient care experience. It is clear that outreach efforts addressing widely scattered populations can require time to develop and gain momentum. We recognize that in achieving an impactful and widespread outreach program, one must have the patience to persist and repeat programs as necessary for a project to gain traction and expand.
ABOUT Alan Carr
Alan Carr is the Associate Director, National Network of Libraries of Medicine, Pacific Southwest Region, based at UCLA.
Email author View all posts by Alan Carr