Highlights of the NN/LM PSR 2014 Planning Questionnaire!
Posted by Alan Carr on October 10th, 2014 Posted in: Advocacy, Electronic Health Records, Funding, General

---
We extend our thanks and appreciation to everyone who participated in the recent RML planning questionnaire! We received about 100 responses with information and valuable feedback that will enable us to continue to improve our programs and services to meet the needs of Network members. Overall, we were encouraged to see results suggesting that our work does make a difference for health sciences librarians and information centers in the region, as illustrated by the roughly 94% of respondents who agreed that the RML is effective in promoting access to or awareness of biomedical information resources, and effective in improving awareness of regional activities. Following are additional highlights and themes from the questionnaire results.
Job Duties Continue to Change and Expand
Similar to the results of the last PSR planning questionnaire in 2012, exactly half of the respondents indicated that their job duties had expanded or changed during the past 12 months. The most frequently mentioned scenario was the assumption of additional duties due to staff downsizing. Several respondents mentioned more emphasis on supporting systematic reviews and NIH public access compliance, as well as working with medical staff on complex literature searches. Also mentioned was centralization of some functions, such as cataloging and book ordering, to cover several hospitals. One respondent has taken on the role of notary public for hospital staff and patients, while another mentioned being added to the Magnet team. And several respondents mentioned increased committee work, both library related and hospital related. For the past two years, we have highlighted evolving roles in our October Midday at the Oasis webinar series, to celebrate National Medical Librarians Month.
NN/LM PSR Outreach Funding
Nearly 90% of survey respondents indicated they had not applied for NN/LM PSR outreach award funding during the last five years. Unfortunately, one key reason for this result is the previously mentioned downsizing of staff, which leaves those remaining too overburdened to take on additional projects. Two key themes emerged from the responses; the desirability of smaller projects in the $2,000 to $5,000 range, and simplification of the application and award reporting processes. One respondent suggested higher levels of funding to justify the extra time to apply for and administer the award, and a couple of respondents were not aware of the outreach funding program. Our awards program is designed to be flexible, and any project amount may be submitted up to the maximum level, which has been $9,000 for the past several years. We have simplified the application and reporting processes as much as possible, but are constrained by requirements placed on us by NLM and UCLA. However, any RML staff member can be contacted for feedback and suggestions regarding outreach project ideas and application assistance!
EHR/EMR Links to Patient Health Information
Respondents to this question who utilized an institutional electronic health record were evenly split between positive and negative answers to the question of links to health information resources for the patient, while 42% of respondents said the question was not applicable to them. EPIC was far and away the most commonly mentioned system. Other systems mentioned by respondents included Meditech, TIER (mental health), eClinicalWorks, Cerner, Allscripts, Siemens Invision, and Soarian. As a result of efforts by the NN/LM Task Force on the MedlinePlus Connect Initiative, RML staff are available to provide training sessions for the MedlinePlus Connect resource.
Discontinuation of MD Consult
Nearly 45% of survey respondents indicated that their library/institution would be affected by the discontinuation of MD Consult at the end of 2014. Of these, nearly half of the responses indicated that they had subscribed to ClinicalKey or were considering a subscription. The responses indicated that MD Consult was a favorite resource of clinicians, and more reasonably priced than ClinicalKey, so the transition was not always optimal. Specific drawbacks mentioned for ClinicalKey included the expense, which competes with other valuable resources, including UptoDate, and the possibility of discontinuing other resources. It was also described as not fully developed, inflexible, and "clunky" to use. Alternatives mentioned to ClinicalKey included EBSCO Discovery, or acquiring individual journals through other vendors or a la carte through Elsevier. This question was included in the survey because NN/LM and NLM are investigating the possibility of various future e-licensing arrangements, and the feedback from this question will be valuable for the planning process.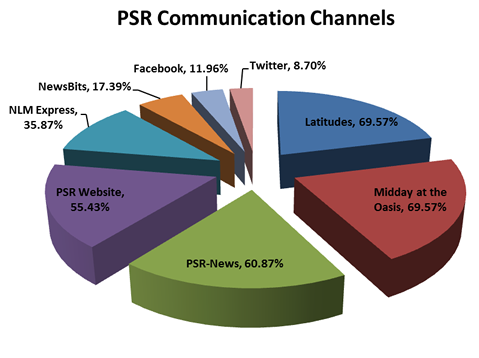 NN/LM PSR Communication Tools
The RML provides information and announcements through multiple channels, including the Latitudes Newsletter, which provides in-depth feature articles of professional interest; the monthly Midday at the Oasis Webinar, with a variety of featured speakers highlighting topics such as bioinformatics, metadata, data management, and copyright; the periodic NLM Express webinar series, which focuses specifically on NLM resources; the NewsBits Blog, which provides brief announcements, upcoming event information, and technology tips; and the PSR-News announcement list, which keeps Network members apprised of breaking developments from the National Library of Medicine, funding opportunities, and other notices. The survey results showed that all these communication channels are used, particularly Latitudes, Midday at the Oasis, PSR-News, and the PSR web site. To help you keep up with the content of the Latitudes and NewsBits blogs, we announce titles of all postings on a monthly basis in PSR-News.
In addition to these traditional communication channels, we have used Facebook and Twitter social media tools for the past several years, as other avenues to reach Network members with relevant information and announcements. Several survey respondents indicated they were not aware of our social media offerings, so hopefully we will get more "Likes" and "Followers!" In addition to unique content, all listings from Latitudes and NewsBits are promoted on Facebook and Twitter. Facebook can also be used to post pictures of new library facilities, share success stories at your institutions, and discuss professional issues and questions with colleagues from throughout the region and beyond. The most highly rated suggestions for additional social media programs for the RML to adopt were LinkedIn and YouTube, but nearly one-quarter of respondents indicated firewall or other restrictions for social media sites and streaming videos, including YouTube. Several respondents commented that email was the ideal communication method. In the future, we plan to investigate the possibility of developing several simple tutorials on YouTube for the PSR web site.
Of the respondents who used our communication tools, 85-95% agreed that the amount of information provided by all of the methods was "just right." Seven respondents indicated the amount was "too much" while 25 respondents indicated the amount was "not enough." We were very pleased to see that we are not overwhelming Network members with excess information! Several respondents indicated a preference for PSR-News announcements that incorporated several items in one message, which is a very helpful suggestion that can easily be accommodated. If you would prefer to receive PSR-News messages in a daily digest format, just let us know and we will make that change. Another way to manage the messages is to set up an email filter for a PSR-News folder.
In the additional comments regarding NN/LM and NLM services, Midday at the Oasis again received several mentions as a valuable part of the RML program. Other respondents were appreciative of the archived webinars which they can view on their own schedule. Also mentioned as important was the continuation of the RML's outreach funding program. The majority of comments expressed satisfaction with the overall RML program, particularly the importance of keeping Network members apprised of webinars and other events, funding opportunities, resource updates, etc., which is a very gratifying result!
Again, thanks to all the participants in our 2014 Planning Questionnaire for helping us shape our programs and services to better meet the health information needs of NN/LM PSR Network members. Your input will be valuable as we prepare to submit a new five-year RML contract proposal for 2016-2021 in the coming months!
ABOUT Alan Carr
Alan Carr is the Associate Director, National Network of Libraries of Medicine, Pacific Southwest Region, based at UCLA.
Email author View all posts by Alan Carr