How To Find LinkOut Statistics!
Posted by Marco Tamase on January 18th, 2013 Posted in: General, NLM Products, PubMed

---
In December, we sent a message about the use of the LinkOut statistics function in the Library Submission Utility, to assess whether any of our network members were using certain options for statistics. I received feedback from about one dozen people. Here is some further information for you.
We were gathering feedback on whether libraries are using the statistical function that tracks how often users go to URLs that contain the holding= or otool= parameters. The URL parameters (holding= and otool=) would still be used by libraries to trigger their library icons to appear on PubMed citations, but NCBI was considering discontinuing keeping statistics on these particular selections. This article sheds light on the different options available for counting LinkOut statistics.
Brief animated tutorials with audio for using LinkOut Tools are available at the LinkOut for Libraries Training and Educational Resources web page. The Library Submission Utility: View Usage Statistics is just 2 minutes long, and was updated in June 2012. Here are a few slides for illustration.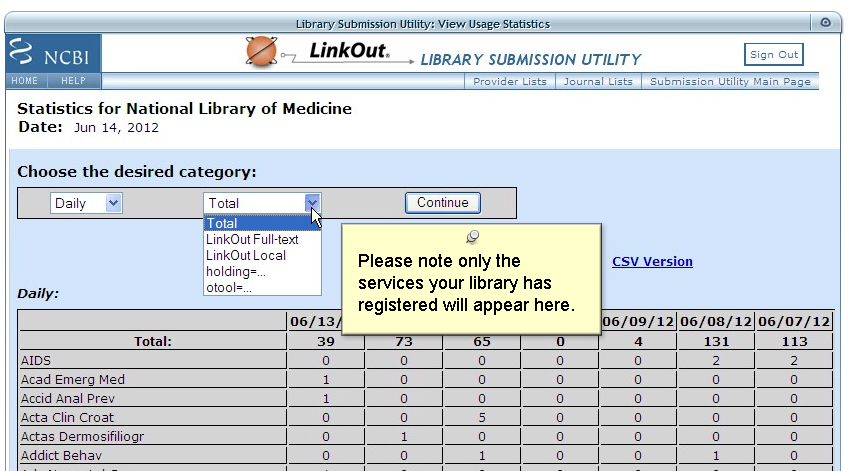 The services that your library has registered will appear in the dropdown menu.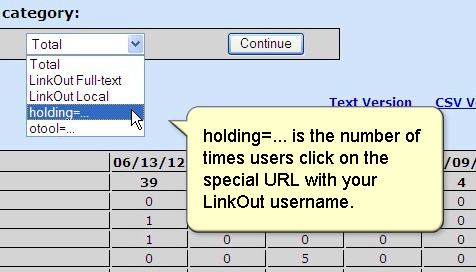 The selection holdings= will give you the number of times users click on the special URL with your LinkOut username attached. The selection otool= is the number of times users click on the special URL with your LinkOut otool name. Both of these will just be counting the entry point for your users, as this is usually part of the string of the URL from the Library's PubMed link.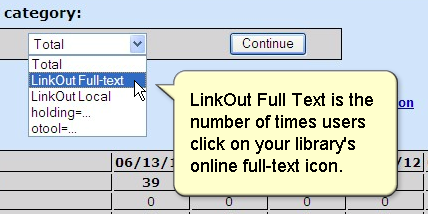 What may be more useful is the number of times that users click on your library's icons. This option may give the library more data. For example, Dr. Garcia clicks on the Library's PubMed URL with the holdings= statement only once. As she searches PubMed, she clicks on several icons for accessing full text journals.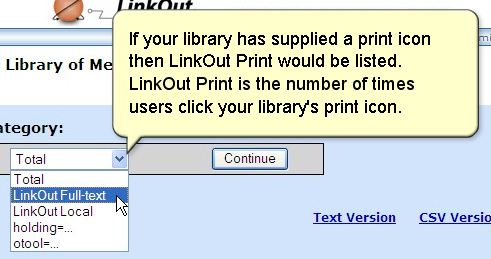 Gathering statistics is very much like comparing apples and oranges. With the holdings= and the otool=, you are receiving only the number of initial clicks made by a user. With the other options, you will get a count of the number of times the user clicked on the full text or print icons. The statistics about which journals were accessed is also available. You can then decide which numbers are more meaningful to you and your library.
ABOUT Marco Tamase
Marco Tamase is the Member Services Coordinator for the Pacific Southwest Region of the National Network of Libraries of Medicine located at UCLA.
Email author View all posts by Marco Tamase