IHA's Annual Health Literacy Conference: "Operational Solutions to Improve Health Literacy: At the Intersection of Health Literacy and the Affordable Care Act"
Posted by Kelli Ham on May 29th, 2015 Posted in: Affordable Care Act, Consumer Health

---
The annual Institute for Healthcare Advancement (IHA) Health Literacy Conference in Irvine always provides a great opportunity to hear from experts in the field about health literacy topics and solutions, but this year was even better than usual. The Affordable Care Act brought about unprecedented challenges for individuals and providers alike. Health insurance is a complicated, multifaceted topic; a recent study by the Kaiser Family Foundation found that many average Americans have difficulty understanding common insurance terms such as premium and deductible.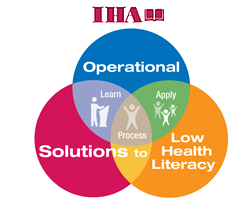 This year's conference provided preconference workshops and several relevant presentations related to the Affordable Care Act and health insurance. The session titled Best Practices for Health Insurance Outreach, Enrollment, Retention, and Utilization provided insight into successful outreach activities for helping consumers enroll in insurance, keep their insurance, and use their plan. A main takeaway from this workshop is that outreach in library settings should continue. While much effort was focused on initial enrollments, consumers need ongoing assistance in other areas. For instance, some consumers learned they would have to pay a tax penalty because they either didn't enroll or had let their coverage lapse. Other consumers have enrolled in plans, but don't understand the benefits and don't know how to use insurance. All of these issues could be topics of outreach programs in library settings.
NN/LM PSR sponsored three network members to attend this year's conference. The sessions often prompt attendees to think about their own experiences. Caroline Marshall from Cedars-Sinai Medical Center in Los Angeles made these observations:
A few days after I returned from the IHA Health Literacy Conference in Irvine CA, I decided to check my dental coverage one more time. I was resigned to the fact that I was not covered for my upcoming periodontal surgery. But wait, the benefits advisor says "yes you are!!" Not so fast; the insurance company says "no you are not!!" Hmmmmm. It turns out they are both right; I have coverage but just not for the treatment I am getting. I checked those service codes; you know, those little letters and numbers the health care billing folks use to code your treatment. Who knew! A few more dollars a month and I have upgraded to a plan that covers the codes I need. I have a Master's Degree and English is my first language, but it took me two days to get this figured out, and it could have cost me close to $10,000. Educational status is not an indicator of health communication skills.

Health Literacy is not just about understanding treatment plans and how often to take your medication; it is about navigating the healthcare system as a whole. It can be a minefield, especially for those who are new to it all. As speaker Janet Ohene –Frempong pointed out at the conference, being highly literate does not mean you can understand health information. I am highly literate but clearly I did not understand my insurance plan.

The conference included a great session on Your Health Insurance – How It Works and How to Use It: A Train-the-Trainer Session. Another great session was Teach-Back: Make It an Always Event by Mary Ann Abrams, M.D., MPH, of Nationwide Children's Hospital. Teach back can be used in many interactions, the most obvious being between patient and doctor but perhaps we should think about using it in other situations too.
Other sessions included Lessons about Clarity from Crisis and Emergency Risk Communication by Cynthia Baur from the Centers for Disease Control and Prevention; a fascinating talk about the need for clear, simple information during emergencies. When properly crafted, public health messages can reduce or prevent sickness, injury, or even death during times of crisis. Libraries often play a key role in the community during emergencies, and clear communication strategies will be beneficial to the entire community. In addition to the other excellent sessions, a final highlight was a panel presentation featuring Dr. Rob Logan from the National Library of Medicine along with Michael Villaire and others. The topic was Health Equity and Health Literacy: Examining the Link, Exploring Solutions, and the speakers explored the connections between health equity, quality healthcare, and health literacy, and how awareness of these issues can improve healthcare overall.
ABOUT Kelli Ham
Kelli Ham is the Consumer Health Librarian at the National Network of Libraries of Medicine in the Pacific Southwest Region, based at the UCLA Biomedical Library. When she's not extolling the virtues of MedlinePlus, Kelli can be found hiking local trails or working in her organic garden and native landscape.
Email author View all posts by Kelli Ham