Interpretations and Insights of the 2015 NN/LM PSR Data Management Needs Assessment
Posted by Jonathan Ballak on December 18th, 2015 Posted in: Advocacy, General, NLM Products, Training

---
Thanks to everyone who participated in our 2015 Data Management Needs Assessment! Over 100 responses were received, which was an excellent response rate considering the specialized nature of the topic. We believe that these results show a significant acknowledgement that data management needs and assistance are currently an area worthy of educational programming and support. In addition, many respondents reported that they were in the process of developing data management services. Your feedback will be a great help in developing materials to help provide guidance with your data management needs!
Which libraries responded?
The majority of respondents were either academic health sciences libraries or hospital libraries.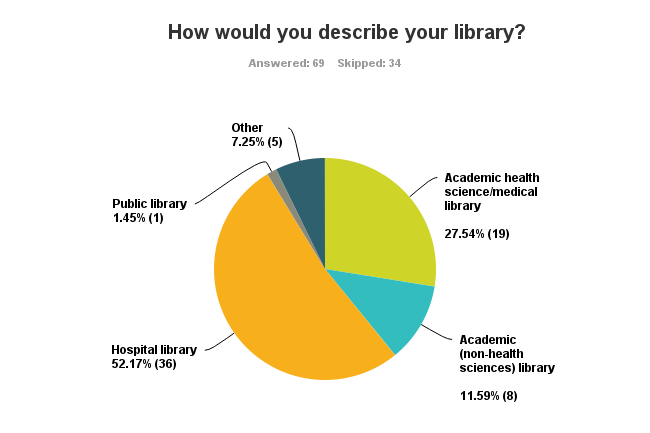 The De Facto State of Data Management
The general trend indicated from the Data Management Assessment Questionnaire is that slightly less than half of NN/LM PSR network members have addressed their data management needs, or are planning to address data management needs.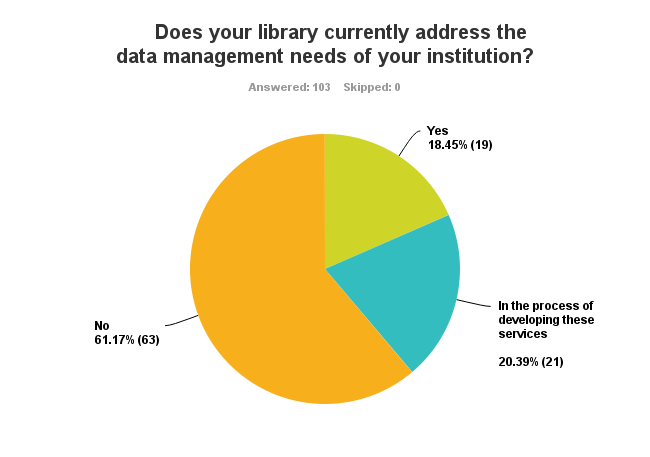 Delineating Job Responsibilities
The forty individuals whose libraries addressed or planned to address institutional data management needs were invited to answer additional questions. Not surprisingly, the survey results show that most of the data management responsibilities are being undertaken by librarians who have added data management to their list of duties. This coincides with respondent comments later in the survey who have clearly stated that due to budget problems the staff has had to consolidate job responsibilities.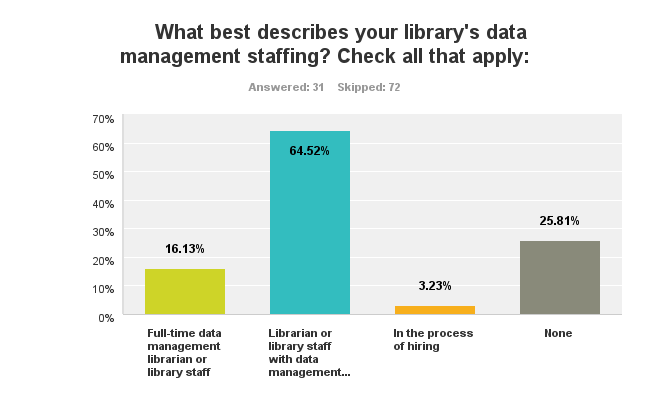 Data Management Instruction
On a tangent from survey results that indicate that most data management services are being absorbed by librarians who have other duties, it is evident that many librarians are receiving on-the-job data management training.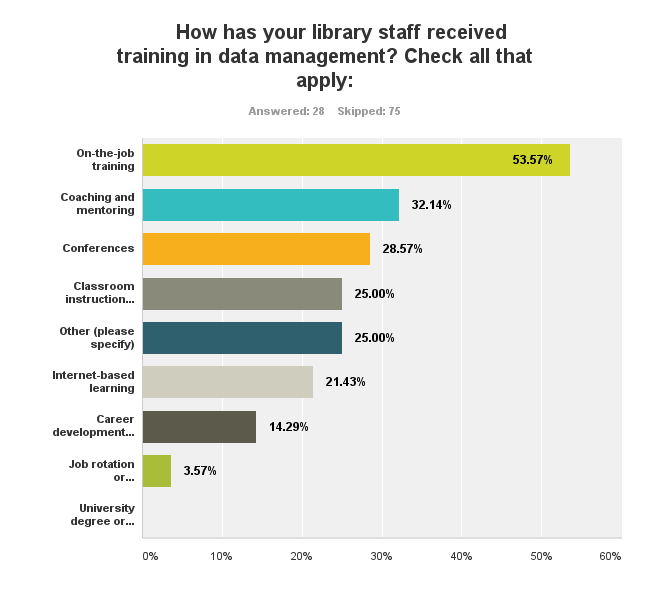 Assessing User Needs: Who are the users?
Faculty is by far the most common, or largest of the audiences that request data management services. Staff and graduate students were a close second. Researchers were also noted as a primary audience by a number of respondents.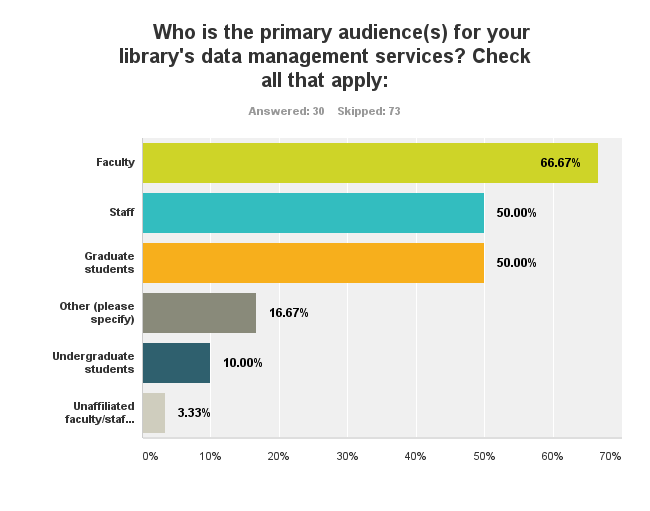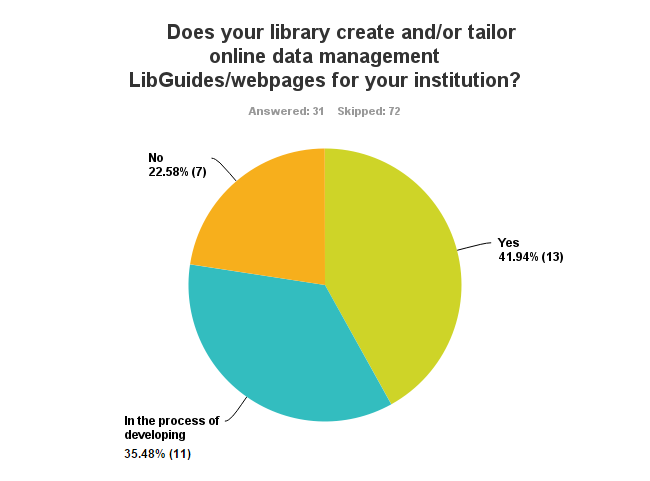 Data Management Resources
Nearly 42% of respondents said that they have tailored LibGuides for Data Management; 35% responded that they are in the process of developing LibGuides, and 23% have not developed any LibGuides. Some respondents shared their online data management resources. LibGuides being used for Data Management by NN/LM PSR network members include:
http://ucsd.libguides.com/researchdata
Mapping Data Management Needs
Of the two respondents who replied that they had done an assessment of users' top research/data needs, it was determined that data storage, data deposit, data backup, and security issues were areas that would warrant assistance. In addition, it was also indicated from responses that assistance in writing data management plans (DMPs) would also satisfy a current data management need.
Collaboration and Sharing
Although sharing data between organizations is somewhat rare, the survey indicates that the primary way that data is shared is internally. However, the survey also indicates that libraries do collaborate with other libraries in providing data management guidance and resources.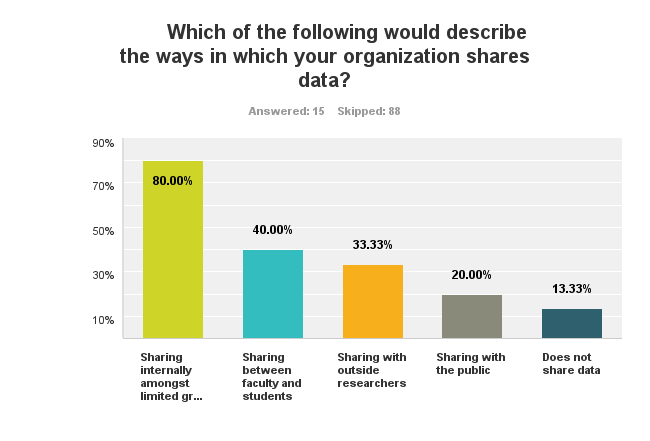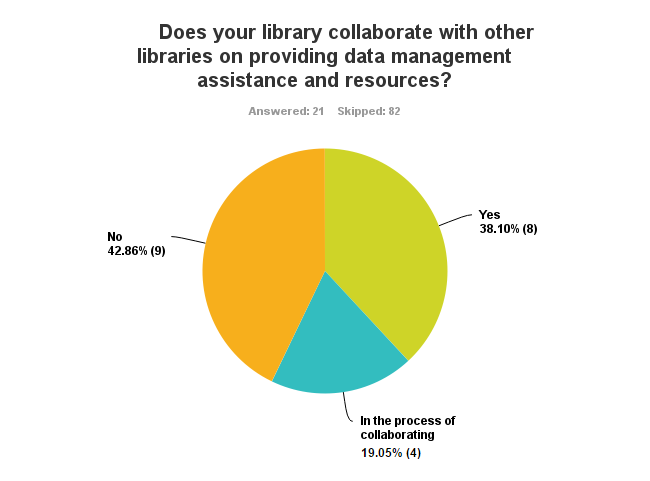 Data Management Challenges
Based on some of the survey results it seems that the small portion of network members that do offer data management support have found certain challenges in making interested parties aware of the fact that they offer data management services. In addition, it was noted that greater clarity and definition of data management issues would be an improvement, as well as program scalability and helping librarians make transitional moves from traditional liaison roles into dedicated data management positions.
Along similar lines, it seems apparent that some network member libraries have encountered difficulty in convincing faculty, staff, and/or administrators of the value of implementing data management services. "Getting buy-in of staff and faculty to realize the benefit to the organization" was one comment from a survey respondent. In addition, finding staff to dedicate to data management is also noted as a challenge in implementing data management services. Garnering support for the development of data management services is also noted as a challenge, as administrators at certain libraries may not be aware of the benefits of offering data management planning services. Several respondents made passing mention for the need to market their services in order to build awareness of their data management program as well as to delineate the different components of data management processes. One respondent said that: "One of the biggest challenges is educating our dean in what the library itself is capable of support in the way of data management services."
Shortages of available staff working hours to dedicate to data management services are noted several times throughout the survey. Lack of training, limited budgets for utilizing repository services, and shortage of staff are mentioned as factors that prevent the implementation of data management services. Also mentioned is that separate departments at certain libraries are tasked with data management services rather than librarians. Another respondent commented that one of the biggest challenges is "fully defining the issues, scope, and boundaries" regarding data management services.
Conclusion
Interpreting the results of the NN/LM PSR's Data Management Needs Assessment indicates that data management services in the library are certain to be an area of development in the future. In addition, it seems that many librarians are interested in how they can improve and provide services in order to meet current data management needs. Data management in its present stage of development is still quite young. Therefore, it is significant that librarians play an instrumental role in the development and implementation of data management policies and practices. As data management needs continue to evolve, so too, do the roles of librarians. As results of the survey indicate, many library professionals are concerned with overlapping duties that correspond to data management practices and responsibilities. This aspect of blurred boundaries between librarian job duties may reflect this emergent stage in the development of data management services. As the field of data management expands we expect librarians to maintain various roles, but the most likely scenario will be that data management roles will become more fully formed and delineated in order to meet the specialized needs of their communities. In the future we hope to provide NN/LM PSR network members with the most relevant trainings and resources in order to meet their specific data management needs.
ABOUT Jonathan Ballak
Email author View all posts by Jonathan Ballak