Joint Conference of Librarians of Color: "Gathering at the Waters: Celebrating Stories and Embracing Communities"
Posted by Marco Tamase on November 19th, 2012 Posted in: Consumer Health, Outreach, Training

---
by Yamila El-Khayat, Outreach Services Librarian, Arizona Health Sciences Library, University of Arizona and
Lori Tagawa, Community Outreach Coordinator, NN/LM Pacific Southwest Region
Having the opportunity to attend the 2nd National Joint Conference of Librarians of Color (JCLC) in Kansas City, MO, was an amazing experience. It was different; we were surrounded by a large diverse group, but with one similarity: librarianship!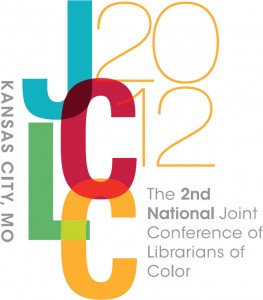 JCLC is sponsored by five associations of ethnic librarians, including the American Indian Library Association (AILA), the Asian/Pacific American Librarians Association (APALA), the Black Caucus of the American Library Association (BCALA), the Chinese American Librarians Association (CALA), and the National Association to Promote Library and Information Services to Latinos and the Spanish Speaking (REFORMA). More than 800 attendees came to Kansas City for the three-day conference, September 20-22, 2012, filled with opportunities to celebrate our diversity. In addition to over 100 concurrent programs and poster sessions focusing on pressing issues affecting both librarians and communities of color, the conference provided opportunities to experience Kansas City's diverse background, with tours to the Haskell Indian Nations University, the American Jazz Museum, the Negro Leagues Baseball Museum, and the Nelson-Atkins Art Gallery.
The National Library of Medicine sponsored the all-conference special program, "We Need a Revolution: Combating Stress and Depression in the Workplace," presented by Gayle K. Porter. Dr. Porter is a clinical psychologist and co-founder of the Gaston and Porter Health Improvement Center, a non-profit organization that helps African American women improve their physical and emotional health outcomes. Dr. Porter gave an eye-opening presentation on how people of different age, gender, race, and ethnicity experience and express depression. Examples were given of how older Latinas are more likely to experience depression than their younger Latina or older women counterparts, primarily due to linguistic isolation, or how African Americans express different symptoms of depression, such as eating more or being more aggressive, than other groups. She also spoke to the librarian profession being in a stressful situation, due to reduced budgets and digital competition. The presentation closed with a discussion on various treatments and lifestyle changes to reduce stress and depression.
Yamila El-Khayat participated as part of a panel titled "Focus on Minority Health: Initiatives and Challenges to Accessing Health Information." The introduction began with a discussion about statistics, what people were searching for on the internet, the importance of health information literacy, and minority health resources, and she was able to highlight a few of the programs that she has done in Arizona focusing on minority health and health literacy. The other panelists then focused on programs that were occurring in their region, that could easily be replicated in other parts of the U.S. Panelists consisted of Faye Williams, from the U.S. Department of Health and Human Services; Monique Rodriguez, a Pima Community College Librarian in Arizona; and Jennifer McDaniel, a Research and Education Librarian at Tompkins-McCaw Library in Virginia. The presentation went very well, with engaged participants willing to go back to their hometowns to start programs to increase health literacy and work more closely with their minority populations. As Yamila and Monique were leaving Kansas City, they ran into many of the participants from their presentation and continued the discussion on how important this topic was in minority populations, and the value of additional highlighting of health resources in library programming.
ABOUT Marco Tamase
Marco Tamase is the Member Services Coordinator for the Pacific Southwest Region of the Network of the National Library of Medicine located at UCLA.
Email author View all posts by Marco Tamase