Julie Kwan Receives the 2012 MLGSCA Louise Darling Achievement Award!
Posted by Marco Tamase on April 20th, 2012 Posted in: Document Delivery, E-Science, General

---
On April 18, 2012, Julie Kwan was named the 2012 MLGSCA Louise Darling Achievement Award recipient at the MLGSCA Business Meeting.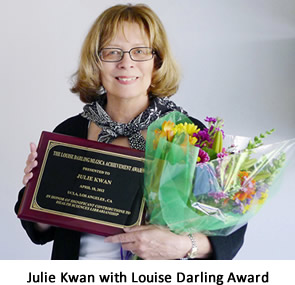 The award was based on Julie's leadership in spearheading several vital initiatives facilitating regional resource sharing efforts, during her tenure in the Regional Medical Library (NN/LM PSR), first as Library Network Coordinator (2001-2010), and later as Associate Director, beginning in March, 2010. The initiatives included moving libraries from paper interlibrary loan coupons to the Electronic Fund Transfer System (EFTS); the management of FreeShare, a free reciprocal interlibrary loan cross-regional DOCLINE Group; and implementing regional electronic resources licensing with the Statewide California Electronic Library Consortium (SCELC). Julie had a prominent role in directing and publicizing all of these programs, greatly benefiting many MLGSCA libraries. With her appointment as NN/LM PSR Associate Director in 2010, Julie played an essential role in the professional development of many MLGSCA members by funding full-day symposia activities, such as E-Science Day at UC Davis in December, 2011, and Information Treasure Hunt: Suppporting Evidence-Based Practice @ Your Institution, featuring Connie Schardt.
In addition to her RML accomplishments, Julie also served as MLGSCA's Credentialing Liaison in 2005-2007. She has also been very active in MLA, most recently serving on the MLA 2009 Local Arrangements Committee. Julie was also Secretary/Treasurer for MLA's Medical Library Education Section in 2005-2007, and is currently Chair-Elect of the Section. Over the years, Julie has made numerous presentations and contributions at MLA Annual and Chapter meetings on various resource sharing topics. In addition, Julie has been the course coordinator for several recent health science librarianship courses in the UCLA Department of Information Studies, and has mentored many new professionals.
Congratulations, Julie!
ABOUT Marco Tamase
Marco Tamase is the Member Services Coordinator for the Pacific Southwest Region of the National Network of Libraries of Medicine located at UCLA.
Email author View all posts by Marco Tamase