Kaiser Permanente West Los Angeles Library Celebrates National Medical Librarians Month!
Posted by Marco Tamase on October 4th, 2011 Posted in: Advocacy, General, Outreach

---
by Tom Shreves, MLIS
Manager, Library Services
Kaiser Permanente Medical Center, West Los Angeles
In recognition of National Medical Librarians Month, Kaiser Permanente West Los Angeles Medical Center's Health Sciences Library is hosting a Special Exhibition and Open House.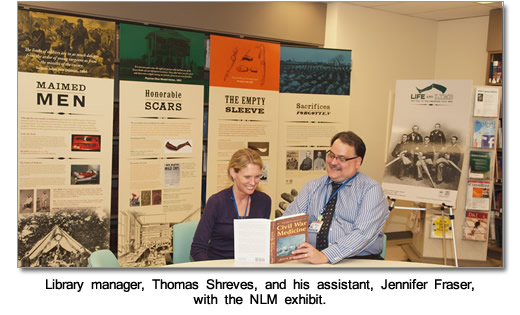 The library is hosting the exhibition, Life and Limb: The Toll of the American Civil War from October 3rd through November 12th, 2011. Exhibition hours are 8:00 AM – 5:30 PM Monday – Friday. The library is located in the Medical Office Building, Basement, Room B-55, 6041 Cadillac Avenue, Los Angeles, CA, 90034.
The exhibition is sponsored by the National Library of Medicine (NLM) and the National Institutes of Health (NIH) to commemorate the 150th anniversary of the American Civil War, and to celebrate the 175th anniversary of the U.S. National Library of Medicine, the world's largest repository of medical information. The exhibition is curated by Manon Parry, PhD, and designed by Riggs Ward Design. The exhibition examines how early surgical procedures that were performed on Civil War soldiers "saved lives by sacrificing limbs" and provides a unique historical perspective on surgical procedures in the US.
In addition to the exhibition, the library is holding an open house, slated for Tuesday, October, 18th. Open House Hours will be 10:00 AM – 4:30 PM. Guided tours and refreshments will be provided. Admission to the exhibition and open house is free, but hospital parking charges $1.00 per every 30 minutes. Please feel welcome to stop by to say hello, and take a few minutes to immerse yourself in this interesting exhibition!
ABOUT Marco Tamase
Marco Tamase is the Member Services Coordinator for the Pacific Southwest Region of the National Network of Libraries of Medicine located at UCLA.
Email author View all posts by Marco Tamase