Stephen Kiyoi to Begin Second Year NLM Associate Fellowship at PSRML
Posted by Julie Kwan on August 30th, 2011 Posted in: General

---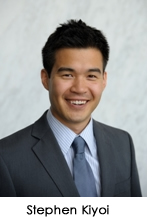 We are delighted to welcome Stephen Kiyoi to the RML office where he will complete the second year of the NLM Associate Fellowship. This is the first time the RML has hosted a second year NLM Fellow. Our goal is to prepare the NLM Associate Fellow for leadership in the National Network of Libraries of Medicine and for future leadership roles in health informatics. Stephen will officially begin on September 6, 2011.
Stephen received his MLIS from UCLA's Department of Information Studies, with a focus on Medical Informatics, in 2010. While pursuing his degree, he worked as a Public Service Assistant at UCLA's Louise M. Darling Biomedical Library and as a student assistant to Christine Borgman, Presidential Chair of the Information Studies department. He also interned at the Norris Medical Library at the University of Southern California. Stephen is a recipient of the Medical Library Group of Southern California and Arizona's student scholarship of 2010. Stephen received his Bachelor's degree from the California Polytechnic University, San Luis Obispo in English Literature.
His projects at NLM included the creation of a mobile version of DailyMed, NLM's drug label website, the creation of a report to convey the value of NLM services and resources to a legislative audience, and research into the health information needs of the social work community.
Please join with us to welcome Stephen!
Plans for all 2010/2011 NLM Associate Fellows may be found at: http://www.nlm.nih.gov/news/associates_plans.html.
ABOUT Julie Kwan
Email author View all posts by Julie Kwan