New NN/LM PSR Data Services and Technology Librarian: Nathalie Reid!
Posted by Nathalie Reid on February 8th, 2017 Posted in: Data, General
Tags: Big Data, Data Services, Nathalie Reid, Technology
---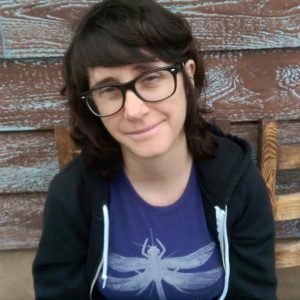 Hello everyone! You may have seen my name in a few emails recently or on the website. I'd like to take this opportunity to formally introduce myself. I'm Nathalie Reid, the new Data Services and Technology Librarian with the NN/LM PSR RML. During the past two years I was the Information and Resources Manager at the National Child Traumatic Stress Network at UCLA, where I focused my efforts in web development and social media. My responsibilities there included content writing, editing, and fact-checking; developing social media plans; content development and strategy; campaign design and implementation; brand awareness; social media policy development; trainings; event planning; and reporting and analytics. I love technology and am always trying to stay current on emerging trends.
In my new position I will be overseeing needs assessment and program development to increase support of big data initiatives. This includes creating data management plans and helping scientific researchers find appropriate data repositories. Also included in this position is overseeing some components of the NN/LM PSR website, particularly to make sure it is 508 compliant. Along with the team of Outreach Coordinators, I will be doing in-person and online workshops to promote awareness and use of NLM resources and tools in research and in the academic community. Additionally, I will be actively involved in the social media activities of NN/LM PSR including posting, tweeting, and blogging – so stay tuned to hear more from me!
I have two master's degrees, one in Library and Information Studies from McGill University in Montreal and another in Sociology. I also have two bachelor's degrees, one in Sociology and the other in Human Rights and Law. I wrote my Master's thesis on banned books in Canada where I examined a legal case and then analyzed public opinions about it in newspaper editorials.
I would absolutely love to hear from all of you as to how data services can be useful in your libraries. Data services is a new and emerging trend for both UCLA and NLM so it would be wonderful to hear from you as to how we can shape this initiative. Please send all comments to nreid@library.ucla.edu.
Looking forward to meeting you soon!
ABOUT Nathalie Reid
Nathalie Reid is the Data Services and Technology Librarian for the Pacific Southwest Region of the National Network of Libraries of Medicine located at UCLA. She enjoys riding her scooter, crafting, baking, and hanging out with her two cats.
Email author View all posts by Nathalie Reid