Native Voices Exhibit on Display at the UCLA Biomedical Library February 10 – April 6!
Posted by Alan Carr on February 11th, 2015 Posted in: Consumer Health, NLM Products, Outreach, Public Health

---
The UCLA Louise M. Darling Biomedical Library has announced the opening of the traveling exhibit, Native Voices: Native Peoples' Concepts of Health and Illness, on loan from the National Library of Medicine. It is on display in the first floor of the Biomedical Library from February 10 – April 6, 2015. The exhibit is also available online.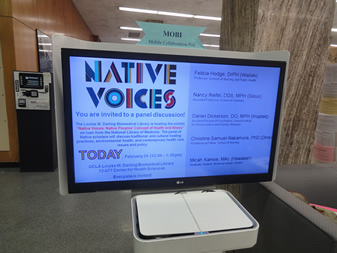 This exhibit includes over one hundred video clips of interviews with Native Americans, Alaska Natives, and Native Hawaiians, who speak in their own voice about their views of health and illness and how these are interconnected with their cultural life and beliefs. Stories examine both past and present and show how the determinants of health are tied to the community, to the land, and to the spirit. The exhibit includes six panels, each with a different theme: Introduction, Individual, Community, Tradition, Nature, and Healing. There are six iPads with headphones where visitors can view the video clips. The content on each of the iPads is the same. Content includes the following:
Native views and definitions of health and illness
Native views of the Land, Food, Community, the Earth/Nature, and Spirituality as they relate to Native health and illness
Role of traditional healing in Native American culture today
Historical role of traditional healing in the context of Native American, Alaska Native, and Native Hawaiian history
Relationship of traditional healing and Western medicine in Native communities
Native stories about the practice of healing
Native traditions and activities that promote health and healing
Issues of economic development and the impact on health of Native communities
Role of Native Americans in military service as an element of pride, honor, sense of tribal health, and commitment to tribe and country
Contemporary intergenerational views of Native health including those of Native elders, women, and youth
Current work by Native communities and leadership to improve their community and individual health conditions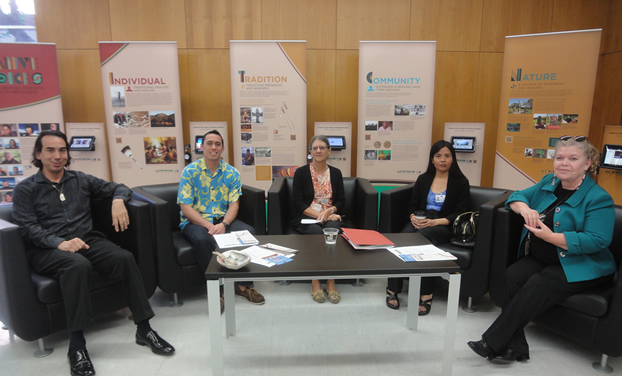 Left to Right: Daniel Dickerson, Micah Kamoe, Nancy Reifel, Christine Samuel-Nakamura and Felicia Hodge.
A panel discussion related to the exhibit was held at the library on Tuesday, February 24, 12:00-1:30 PM. This panel of Native scholars discussed traditional and cultural healing practices, environmental health, and contemporary health care issues and policy.
Felicia Hodge, DrPH, (Wailaki) Professor, Schools of Nursing and Public Health
Nancy Reifel, DDS, MPH, (Sioux) Assistant Professor, School of Dentistry
Dan Dickerson, DO, MPH, (Inpuiaq) Assistant Research Psychiatrist, Semel Institute for Neuroscience and Human Behavior
Christine Samuel-Nakamura, PhD, (Dine) Postdoctoral Fellow, School of Nursing
Micah Kamoe, MAc, (Hawaiian) Graduate Student, American Indian Studies
Panelist Micah Kamoe subsequently submitted an account praising the exhibit, which was published in the National Library of Medicine's Healing Totem Journey blog.
ABOUT Alan Carr
Alan Carr is the Associate Director, National Network of Libraries of Medicine, Pacific Southwest Region, based at UCLA.
Email author View all posts by Alan Carr