Native Voices in the Southwest: Traveling Exhibit Visits Tucson!
Posted by Alan Carr on January 27th, 2016 Posted in: Advocacy, General, NLM Products, Outreach, Public Health

---
by Yamila El-Khayat, M.A.
Outreach Services Librarian
University of Arizona Health Sciences Library
Tucson, AZ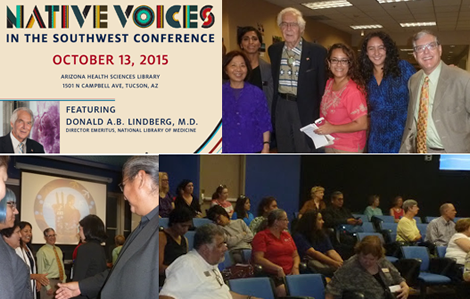 The University of Arizona Health Sciences Library (UAHSL) hosted the very successful Native Voices in the Southwest Conference, a two-day event held in October, 2015, featuring the National Library of Medicine's Native Voices traveling exhibit. The Conference provided time and space to discuss and learn more about health, wellness, and medicine among Native Americans, Alaska Natives, and Native Hawaiians. The event was launched with an insightful talk given by a panel of Native American health care professionals, highlighting Native American Culture in Patient- Centered Care. During lunch, attendees were treated with the opportunity to meet Dr. Donald A.B. Lindberg, National Library of Medicine Director Emeritus, who provided an insightful talk, illuminating his progressive vision for the world's largest biomedical library, and how he foresaw the important role that information technology would play. The day concluded with a screening and discussion about the film, Carlos Montezuma: Changing Is Not Vanishing, about a Native American Arizonan physician in the late 1800s and early 1900s.
The second day of the Conference featured opportunities to have additional interactions with Dr. Lindberg, including a Q&A session and informal conversations held on both the University of Arizona health science and general academic campuses. These casual moments gave students, faculty and staff the opportunity to meet this groundbreaking professional "up close and personal" and learn more about this highly influential and innovative leader. The Native Voices exhibit was on display at the University of Arizona Health Sciences Library from August 24 through December 8, 2015, attracting many community members and increasing the visibility of the library.
ABOUT Alan Carr
Alan Carr is the Associate Director, National Network of Libraries of Medicine, Pacific Southwest Region, based at UCLA.
Email author View all posts by Alan Carr